Singer Confidence 7470 Sewing Machine,
Singer 14CG754 Serger and Singer Dress Form Combo
Equip your sewing room with high value at a low price!
Singer Confidence 7470 Sewing Machine.
Singer 14CG754 Commercial Grade Serger.
Singer Dress Form.
Singer Confidence 7470 Sewing Machine
If you enjoy sewing, the Singer Confidence 7470 sewing machine is a step up you will absolutely love! If you're just getting started and buying your first machine, it's an ideal choice! It has so many features and a price that is hard to beat. It's a great buy for yourself or as a gift.
This Singer sewing machine is packed with 225 built-in stitches. Included are 6 fully automatic one-step buttonholes, alphanumeric stitches for letters and numbers, and a hand-look quilt stitch. Stitches are electronically formed for precision sewing. Stitch setting are automatic, no need to adjust the machine when changing stitches. The Drop And Sew™ bobbin system gets you sewing fast!
For free motion sewing and quilting, the feed dogs drop away. Tension adjustment is automatic. An automatic bobbin winder is a standard feature.
The heavy duty metal frame and long lasting LCD display make it possible to offer a 25 year factory warranty standard with this Singer sewing machine.
Video
Features
Snap-on Presser Feet.
Electronic twin needle control.
Automatic needle threader.
Automatic tension.
Automatic reverse button.
Drop feed dogs for free-motion embroidery, monograms, and attaching buttons.
Automatic length & width settings for each stitch. Settings can be changed when needed.
173 built-in stitches for any project.
Stretch Stitches add strength and flexibility to seams. Useful when sewing on knitwear.
Hand-look Quilt Stitch. Looks like hand-sewing for topstitching or quilting.
Automatic tacking stitch function ties-off decorative stitches with just a push of a button. With 4 tiny tacking stitches, the start and end of the pattern is reinforced.
Mirror-image stitch function.
Continuous pattern stitches.
Automatic tie-off function sews 4 stitches forward and 4 in reverse at the start of straight-stitching. Press the button again and the machine will sew 4 stitches in reverse, 4 stitches forward and then stop.
20 space memory for full names and simple phrases.
6 different one-step, automatic, precisely-balanced buttonholes. Each side of the buttonhole is sewn in the same direction, creating beautifully balanced buttonholes.
6 Second threading. Just follow the arrows on the machine and you are threaded in a snap.
Exclusive 3 step infinite length bar-tack buttonhole.
13 needle positions.
7mm maximum stitch width.
Optimum Power Control. Senses when additional power is needed to maintain speed through thick or changing fabric conditions. This feature is most useful when sewing through many (6-8) layers of fabric.
The LCD provides clear and easy viewing of stitch patterns and settings.
6 Segment Feeding System.
Automatic presser foot pressure control. Sew light weight tricots to the heaviest denim without making adjustments.
Push button interface allows easy stitch selection. Control the length, width, balance, pressure and tension.
Audible tones confirm pattern and function selection.
Jam-proof top-loading bobbin system. The bobbin case floats above the hook to prevent jamming. The clear bobbin cover makes it easy to check the bobbin thread supply.
Automatic bobbin winding clutch with automatic needle bar disengage.
Extra-high presser foot lifter allows you to sew many layers of bulky fabric.
Built-in block alphabet for monogramming and personalizing.
Center zigzag taper provides a more attractive look when tapering into or out of a point.
Programmable needle position allows you to select whether the needle stops up or down when the machine stops.
Easy editing capabilities. A cursor button can be moved through the 20-space memory to edit stitches and letters.
Audible and visual error messaging.
LED lifetime white lamp stays cool, no matter how long the machine is operated.
Box-motion feed. Assures perfect feeding throughout the entire feed process. Feed dogs are always in perfect and equal contact with the fabric and presser foot.
Aluminum frame gives rigid support and holds all the mechanisms in perfect alignment for precise, skip-free sewing.
Electronic stitch formation makes perfectly formed patterns every time.
On-board Storage in the extension table storage area.
Warranty - 25 years parts, 5 year electronic and 1 year labor.
Accessories Included
Needles package.
4 standard bobbins.
Auxiliary spool pin.
Spool pin felt discs (2).
Small, medium and large thread spool caps.
Feet.

General purpose foot (comes on machine).
Blind hem foot.
One-step buttonhole foot.
Satin special purpose (decorative sewing) foot.
Zipper foot.

Seam ripper.
Lint brush.
Screwdriver.
Dust Cover.
Foot control.
---
Singer 14CG754 Commercial Grade Serger
Get done quicker with the Singer 14CG754 commercial grade serger! It makes professional seams, seam finishes and creative stitches. You'll be zipping through projects from the first day at 1,300 stitches per minute! The 14CG754 also trims and overcasts as it stitches to provide quality seam finishes. It works side by side with your sewing machine.
This Singer serger does more than just seams and seam finishes. You can sew unique creations using decorative stitching such as the Flatlock stitch and the Rolled Hem stitch.
You'll get professional results every time from the many stitch options. Experience more freedom and easy setup with an adjustable cutting width, stitch length control and color-coded lay-in threading. 4/3/2 thread capability saves time with hems, seams and seam finishing. Decorative flat locking and easy rolled hems make garment construction enjoyable.
Singer Serger Benefits
There are good reasons to use a modern serger!

Above all, your creations get an equally beautiful finish, outside and inside. A serger handles all fabric types with ease and precision. Even highly stretchable, fraying or slippery materials.
Secondly, it saves time. Lots of time. It cuts, sews and finishes a seam in one simple operation.
Third, it produces fantastic decorative seams that are usually seen only on store bought items.

A serger makes all the difference.

Using up to 4 threads produces seams that are entirely different to those sewn with a sewing machine 2 threads. Serged seams are more flexible and durable. If you use decorative threads the seams can be real eye-catchers!

Don't let a serger's complex appearance fool you!

It is so convenient and easy to use. You won't want to miss it once you've discovered its many advantages.

This machine includes a bonus instructional DVD.
Serger Features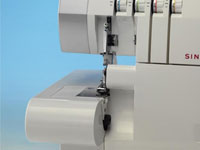 Free arm.
The free arm makes it easy to sew small areas like sleeves, trouser hems, etc.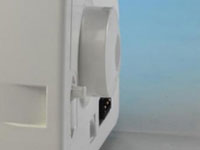 Differential Feed.
Perfect seams on all materials! Adjust the differential feed for flat-seam finishing, a lettuce edge or easy gathering.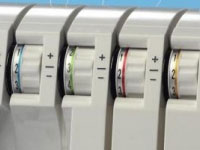 Color Coded Threading.
Threading is easy with color-coded threading paths and handy loops.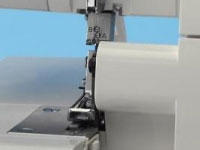 Extra High Presser Foot.
This extra high presser foot lifter means bulky fabrics and many layers are easy to handle.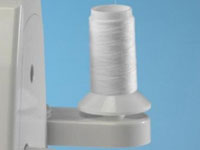 Spool Holder.
A great location for your spools.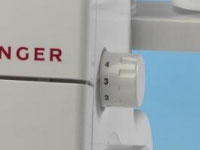 Stitch Length Dial.
The external dial selects a stitch length of 2-4 millimeters.
Additional Serger Features
Moveable upper knife.

The upper knife can easily be disengaged. Great for decorative seams without the cut edge.

Snap-on presser feet.

Change the presser foot quickly thanks to snap-on / off convenience.

Stitch width adjustment.

Easy seam width settings of 3-67 millimeters using the handy knob.
Stitch Selection

Two thread wrapped edge overlock.
The thread saving version for finishing lightweight or knit fabrics with a wider wrapped overlock seam.

Two thread overedge.
Ideal for fine edge finishings, blind-stitch hemming and overedge seaming on light fabrics.

Three thread overlock.
Guaranteed no fraying of fabric edges. The classic over edge seam for all common fabrics.

Three Thread flatlock.
Perfect for extremely flat, joined or lapped seams on cuffs or hems. Ideal for seam embellishments with decorative threads!

Three Thread wrapped edge overlock.
Whether used as skirt finish, fine edge finish on silk wear, or as trendy lettuce edge the rolled hem always looks professional.

Four Thread ultra-stretch mock safety stitch.
The fast and durable safety seam works well for all elastic materials.

Two Thread rolled hem.
For finishing lightweight or knit fabrics with a fine rolled hemming.

Three Thread stretch mock safety stitch.
Thread saving and elastic. Perfect for serging fine fabrics and highly stretchable materials.

Two Thread flatlock.
The thread saving version for extremely flatlocked seams and beautiful decorative effects.
Feature Detail
1,300 stitches per minute.
4/3/2 stitch configuration.
Extra-high presser foot lifter.
Presser foot pressure.
Built-in rolled hem.
Color-coded lay-in thread tension.
Free-arm sewing.
Differential feed.
Adjustable cutting width.
Stitch length dial.
Tension release.
Electronic speed control.
European styling.
Commercial grade 25 year warranty.
Major Parts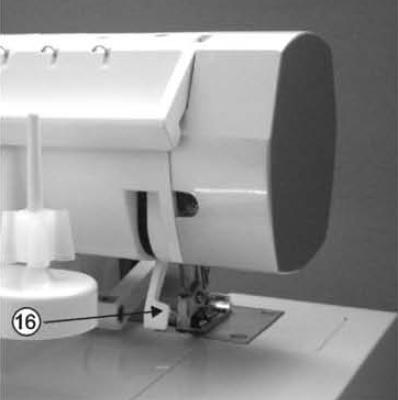 Thread guides and holder.
Handle.
Left needle thread tension dial (blue).
Right needle thread tension dial (green).
Upper looper thread tension dial (orange).
Lower looper thread tension dial (yellow).
Throat plate.
Cloth plate.
Looper cover.
Power & Light Switch.
Stitch length dial.
Hand wheel.
Spool stand.
Spool holder.
Spool pin.
Presser bar lifter.
Differential feed adjusting level knob.
Seam width finger support plate.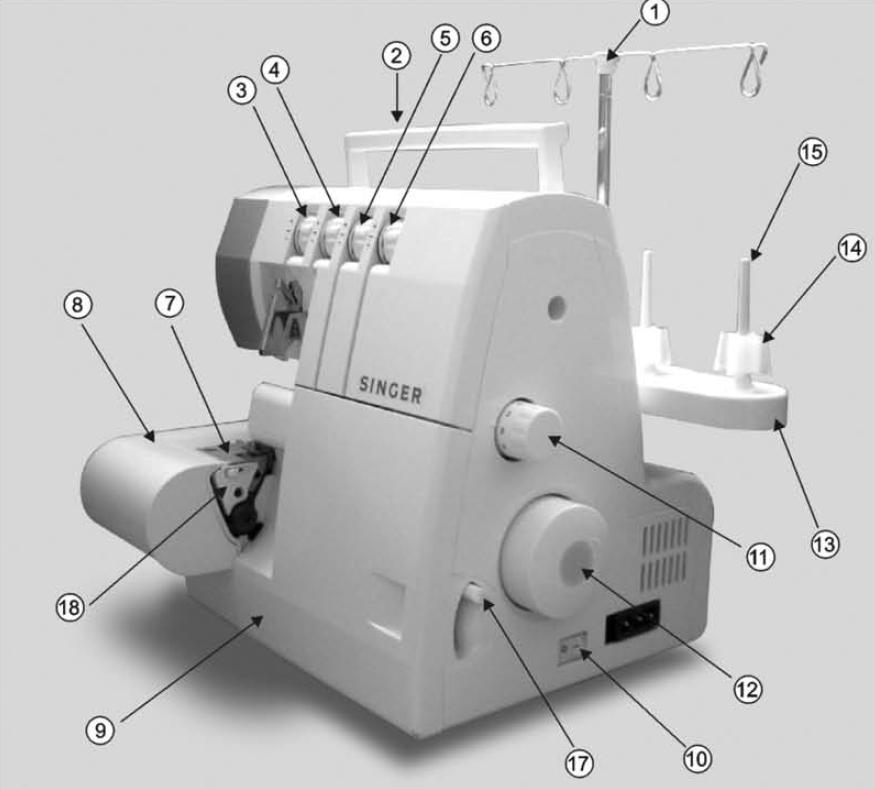 Singer 14CG754 Downloads
Singer 14CG754 Serger Commercial Grade Product Sheet.
Singer 14CG754 Serger Commercial Grade Manual.
Singer 14CG754 Serger Commercial Grade Tutorial "How to Thread a 4-Thread Serger".
---
Singer Dress Form
Choose from two body types.
Size Chart
Model No.
Size.
Bust.
Waist.
Hips.
Neck.
150.
10 - 16.
33" - 39".
25" - 31 1/2".
34" - 40".
13 1/2" - 18.
151.
16 - 22 1/2.
39" - 45".
30" - 36 1/2".
40 1/2" - 46".
13 1/2" - 18.
Singer Dress Form Features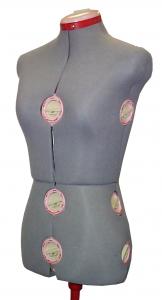 Perfect for dressmaking, tailoring, fashion design, and couture sewing.
14 adjustments for precise measurements including 13 adjustable dials at neck, bust, waist, and hips.
Adjustments can be made in precise increments.
Exclusive adjustable working height.
Exclusive torso height adjustment.
Extended shoulders for supporting and setting in sleeves.
Foam-backed for easy pinning.
Durable construction.
Lightweight.
Rust resistant.
Professional results at an affordable price.
Best in class - 25 Year Limited Warranty.

Need more supplies? Just check the boxes and click "Add to Cart" to pick up everything at once!