NEWEST Upgraded Top of the Line 18" Long Arm Quilting Machine w/ 10' Grace Majestic Frame - Only $125 Per Month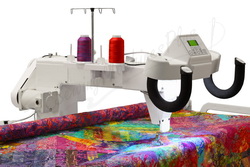 The ALL NEW Upgraded Top of the Line Long Arm Quilting Machine comes with a beautiful new look. The New extra-large ultra-bright LED lighting will illuminate your quilt and workspace like never before.
An extra large bobbin capacity lets you quilt longer between bobbin changes. The built in bobbin winder makes bobbin winding easy. The high quality built-in thread stand is reliable, smooth and quiet.
The "Rams Horn" ergonomic handlebars, and the rear LCD Handlebars, will add ease and comfort to your quilting. With a host of new features including new stitches, five stitch regulated modes, and special needle positioning; the NEW Upgraded Top of the Line Long Arm Quilter will take your quilting to the next level!
The Majestic by The Grace Company is the next step forward in machine quilting. This frame combines all of the great concepts from the previous Imperial model with exciting new features that greatly enhance the Quilter's experience, including stability in the frame and performance in the sewing machine. The 18 inch long arm quilting machine mounts easily on the frame's carriage deck. It will glide smoothly for easy quilting!
Our Upgraded Top of the Line 18" Long Arm Quilting Machine is even better than the Tin Lizzie Ram. The Upgraded Top of the Line Long Arm includes rear handles and comes with a sturdy high quality metal quilting frame.
Features and Benefits of the DLS upgrade.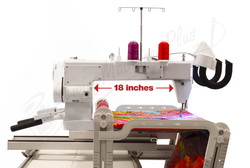 Dimensions Have Incredibly Expanded.
The quilting machine has a large 18-inch space between the needle and arm of the machine. You can easily handle large and bulky projects.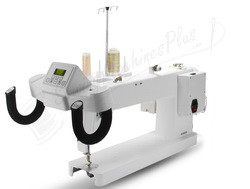 New Sleek Design
The Upgrade brings a Beautiful "New Look" to the machine.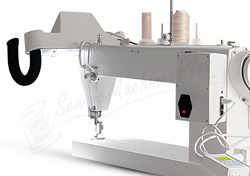 New LED Lighting
Adjustable brightness WHITE Light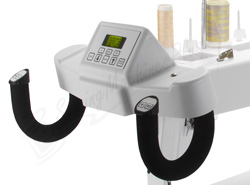 Ergonomic Controls
New "Ram's Horn" Ergonomic handlebar with controls easily reachable.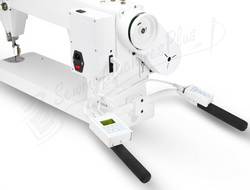 Convenient Rear Handles
REAR LCD Handlebar for pantographing from the rear of the machine.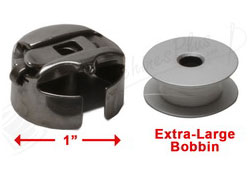 Large Bobbin Capacity
Quilt longer between bobbin changes. The extra large bobbin makes this possible.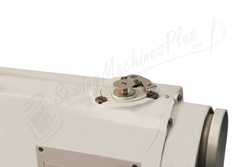 Built-in Automatic Bobbin Winder
A bobbin winder is built in. Wind bobbins quickly and easily.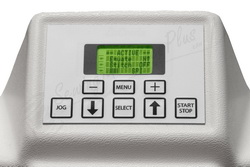 LCD Screen with Easy Touch keys
The screen and controls are built in to the head of the machine making it quick and easy to make your selections.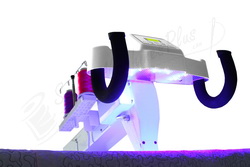 New UV LED Lighting
New UV LED Lighting: Adjustable brightness BLACKLIGHT lights for quilting "White on White".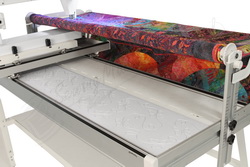 New LASER controls
Adjustable Laser available separately. Laser is used for "block at a time" Pantograph from the front of the machine.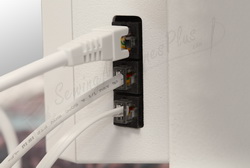 Locking Cable Connectors
Cables easily snap into place and lock.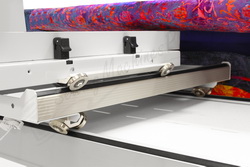 New Spring Loaded Encoders
NEW Improved Encoders roll accurately and easily.
New Diagnostics to check on machine performance.
Quiet Operation: no more irritating motor noise.
New Tie-off UP stitch: Ties off your stitches and then parks the needle up.
New Tie-off DOWN stitch: Ties off your stitches and then parks the needle down.
New JOG Stitch: Motor moves as long as button is pushed.
ROBOT READY: Easy interface to Q-BOT, Quilt Motion, Quilt-so-Clever, and other robots.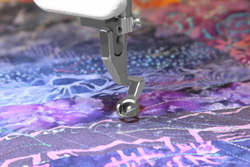 Needle Positioning
NEEDLE UP: Parks needle up after stitching.
NEEDLE DOWN: Parks needle down after stitching.
HALF STITCH: Up to Down, and Down to Up
FULL STITCH UP: Takes a full stitch and ends with needle up.
FULL STITCH DOWN: Takes a full stitch and ends with needle down.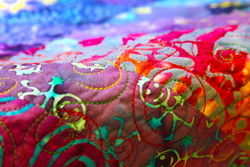 Many New Stitches
Constant Stitch: You control the stitch length manually.
Stitch regulates 4 to 22 stitches per inch.
Five Stitch Regulated Modes
EQUATE STITCH: Needle Stops when you stop moving the machine.
CRUISE STITCH: Needle keeps moving when you stop moving the machine.
BASTING STITCH: Large 4 stitches per inch.
RULER STITCH: Machine waits for you to move ruler and does not time-out.
ROBOT STITCH: Gives control of the machine over to a Robot.
QUILT MOTION ROBOT STITCH: Gives control to Grace's Quilt Motion Robot.
INCLUDED! Grace Majestic Machine Quilting Frame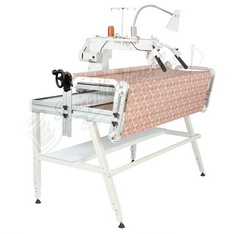 The Majestic frame is the top of the line, and designed to give you the optimal quilting experience. Using favorite features from past frames, the Majestic also has innovative characteristics that are all its own. The carriage has been upgraded to a fully dual-wheel system that enhances stitch quality, accuracy, and motion. The steel construction makes it extra durable and able to withstand years and years of heavy use.
Majestic Quilting Frame Features
No-Baste, No-Fuss System
The high-quality steel rails and precision ratchets make it easy to handle your fabric and tension without basting!.
Smooth Dual-Wheel Track
The smooth dual-wheel track system improves carriage motion and accuracy, giving you more control of fine, detailed stitching.
2 Sizes In 1 Frame
Adjust your frame from crib (68") to king (128") . See below for more information about frame sizing.
Height-Adjustable Legs
Set the frame to your perfect level so you can quilt in comfort.
Fourth Rail For Batting
Having a fourth rail keeps your batting off the floor so it stays clean and easier to manage.
Easy Fabric Attachment
The Fabri-Fast™ slots and tubing make attaching your fabric easy, without the use of tacks, ties, or tape!
Leveling Feet
No matter what floor your frame is on, these feet are an easy way to make sure it's level and balanced.
Easy To Use Hand Wheel
Rolling the quilt on the take-up rail is easy with the convenient hand-wheel.
Grace Majestic Work Area and Physical Size
The work area allows for room on the sides of the frame for bungee clamps. It is roughly the size of the quilt you can work on with the frame.)
King:108" Crib: 48"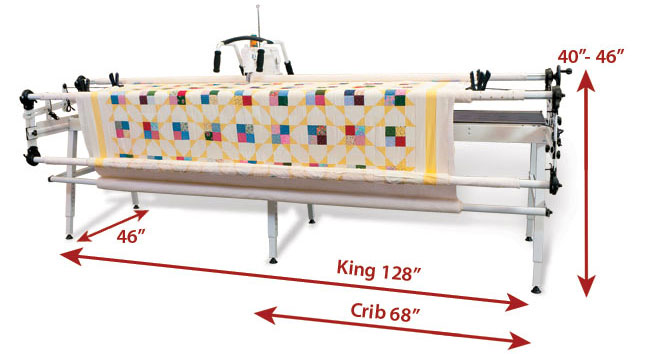 Cable Connection Instructions
Download Instructions for Connecting the Cables on Your New Upgraded Long Arm
Fuse Replacement Instructions
Download Instructions for Replacing the Fuse on Your New Upgraded Long Arm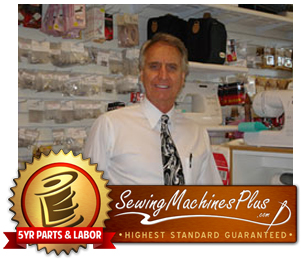 • 5 years FREE Parts & Labor.
• During the FIRST year we will have your machine picked up, repaired or replaced and deliver it back at NO CHARGE. (Just save your box).
• We have 4 experienced mechanics to support you if any problem arises.
I Ron Martin, owner, have 40 years in the sewing machine business & I give my personal assurance.
Long Arm Quilting Videos
Tin Lizzie 18 Long Arm Quilting Machine w/ Stitch Regulator & Frame
This video is for the Tin Lizzie 18. The top of the Line 18 Inch Long Arm is an upgraded version of this machine.
Queen Quilter Eighteen Video
This video is for the Queen Quilter Eighteen Long Arm and is here for reference purposes.