Husqvarna Viking SAPPHIRE™ 875 Quilt Sewing and Quilting Machine
Time to shine with... Exceptional Capability, Clever Convenience, Inspiring Innovation
Clever convenience - Expert assistance for fast, perfect results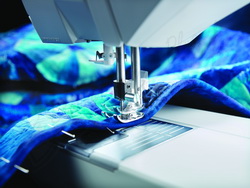 Exclusive Sensor System™
Adjusts to your fabric thickness for a perfect, even feed. The EXCLUSIVE SENSOR SYSTEM™ technology automatically raises and lowers the presser foot to four positions. When the machine stops with the needle down, the Sensor Foot Pivot raises the foot to the perfect float position for instant pivoting. Plus, the Sensor Foot Pressure automatically senses any fabric thickness and adjusts for a perfect even feed.
Exclusive SEWING ADVISOR ®
Easy and effortless. No guesswork! The exclusive SEWING ADVISOR® feature sets the best stitch, stitch width, stitch length, and sewing speed. Simply enter the type of fabric you are sewing and the technique you want to use. Immediately, the best stitch and settings are displayed on the large GraphicDisplay with the recommended presser foot, thread tension, needle size and type.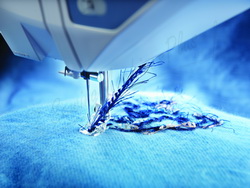 Exclusive Selective Thread Cutter
No need for scissors! One touch on your SAPPHIRE™ 875 Quilt machine and the Selective Thread Cutter cuts the top and bobbin thread and pulls the top thread to the underside of the fabric. You can also program the thread cut to automatically trim a programmed sequence.
Inspiring innovation - The joy of giving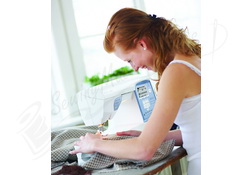 Decorative tapering
Turn decorative stitches into extraordinary embellishments. The tapering feature on the SAPPHIRE™ 875 Quilt machine automatically reduces the stitch width, stitch by stitch, to create precise corners. You can taper 27 decorative stitches to sew unique embellishments.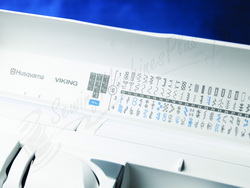 More than 100 stitches shown inside the lid
High quality stitches for every technique. Choose from more than 100 stitches - including utility, quilt, satin, heirloom and decorative stitches. Choose the stitch or stitch number on the easy touch panel and you are ready to sew! Your stitch appears in actual size at recommended settings on the GraphicDisplay. The SAPPHIRE™ 875 Quilt machine offers special stitches and features for quilters including stitch positioning for decorative stitches and preprogrammed quilting stitches. SAPPHIRE™ 875 Quilt machine has 175 stitches, including 5 alphabet fonts.
Inspiration with the stunning SAPPHIRE™ sewing projects
Additional Downloads
Stitch Overview
Click here to download the HUSQVARNA VIKING® SAPPHIRE™ stitch overview. (PDF)
All features and benefits
Click here to download the HUSQVARNA VIKING® SAPPHIRE™ features and benefits. (PDF)
Brochure
Click here to download the HUSQVARNA VIKING® SAPPHIRE™ sewing machine brochure. (PDF)
Comparison chart
Click here to download the HUSQVARNA VIKING® SAPPHIRE™ Comparison Chart. (PDF)
Accessories Included
Feet Included
Utility Foot A
Utility Foot B
Buttonhole Foot C
Blind Hem Foot D
Zipper Foot E
Non-Stick Glide Foot H
Edging Foot J
Quilter's 1/4" Piecing Foot P (Only with 875 Quilt)
Clear Open Toe Foot (Only with 875 Quilt)
Embroidery/Darning Foot R
Sensor One-Step
Buttonhole Foot
Other Included
Thread nets
Non-Stick glide plates (2)
Light bulb remover, Seam ripper
Brush, Screwdriver
Edge/quilting guide
Felt pad (2)
Bobbins (5)
Extra spool caps: one large, one small
Multipurpose tool/ button reed
Needles