Having a list of favorite quick sewing projects can be a big help when you need to give gifts.  As I write this, Christmas is only a week away. So any fabric gifts added to the list now must be quick sewing projects. Here are some last minute gifts to sew that are easy and fun to make when there isn't a lot of time.
Last minute gifts to sew for kids
Felt "Paper" Doll Set
I made this set in a big hurry today. This doll is for a toddler, that's why I made such a simplistic shape. I would like to make another set when I am not in such a real rush because of having to write a blog post, too. I bet this first doll has a much prettier sister born as soon as I'm done writing this post!
Felt Crown
You can whip up a felt crown in minutes. I made a traditional looking King's crown for my boys' dress up bin last year and that thing has seen a lot of play. Here is another easy way to make one that includes appliqué and looks more like a Queen's crown.
Car Carrier
This car caddy saved my sanity many times, particularly in restaurants. I saved a lot of time when I made ours by just using the serger around the edges, rather than sewing and turning this project. I used rainbow variegated thread, and this finish held up fine even though it was used by two boys for several years. They both loved this toy. Here's a tutorial for a car caddy that is similar to ours.
Last minute gifts to sew for ladies and girls
Headbands
There are lots of ways to make headbands, and most of them are easy. I love these which are reversible, and have an elasticized back. Making them this way is even quicker, and a good way to use scraps of special trim or embroidered ribbon. Or you could cover a plastic headband with fabric. Here is a tutorial for an easy, five-minute fabric flower you could use to embellish a plain headband.
Infinity Scarf
Infinity Scarves are extremely easy to make. Here's a tutorial.
Easy Purses
For something simple and straightforward to sew in a hurry, try this adorable and reversible mini messenger bag from Crazy Little Projects. This small cross-body bag works for both ladies and little girls.  Another option for a pretty purse that won't take you long to make is this darling fold over clutch at Flamingo Toes.
Pincushion
Here is my tutorial for my favorite pincushion, which is generously sized and features a felt flower, it's both easy and quick to make up.
Rice Pack Heat Pads
These make a nice gift for everyone, but ladies in particular will really appreciate them, since they are great for soothing monthly pains. They are also awesome for pains in the neck and shoulders. I like to make them from a pretty tea towel folded lengthwise. I stir a dropper full of lavender oil into the dried rice first, this releases a relaxing scent every time it is heated. You can also freeze these, in which case they are wonderful for easing headaches.
Last minute kitchen gifts to sew
Potholders
These are fun because they are so easy. Make one like a tiny quilt by following this precious patchwork pattern from Moda Bakeshop. If there's no time for patchwork, here's a different kind of potholder design that's really quick and cute, too.
Trivet
There are not many quick sewing projects that are faster than making a simple trivet. It doesn't have to look simple, though; here is a quick pattern for a pretty patchwork trivet that can use your tiniest scraps. This can also be made from single fabrics instead of patchwork to save time.
Bowl Cover
I wish I had seen this bowl cover project before now and made some of these for me. I will, for sure. One of these would be a beautiful gift for a party hostess. You could bring an appetizer in a pretty or plain bowl covered with one of these, and let the hostess keep the bowl and the cover. These would be really nice to have for picnics or backyard barbecues.
Napkins
Paper towels are wasteful, and cloth napkins save trees. That is why napkin sets are one of my favorite gifts to make. These are super fast to sew if you have a serger. If you don't, it will take a little longer, since you will have to hem all four sides. This looks nicest if you miter the corners. You could choose linen, flannel, even novelty cottons; if you are using a serger, narrow ribbed knit is a great choice for everyday napkins. I made this festive set as a hostess gift for a New Year's Eve party.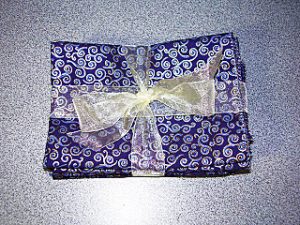 Last minute gifts to sew for anyone
Flannel Scarf
Make two cozy soft scarves from two yards of flannel shirting. Fold the flannel lengthwise, press, and cut down the fold. For each scarf, double turn and sew a narrow hem down each long side. Then sew across the short ends an inch or so from the edge of the fabric. This line of stitching will allow the fabric to fray a bit at the ends, but stop it from fraying when it frays to this line. You'll have to wash it a couple of times to start the fraying, but once it starts, you can pull at it a bit to move it along.
Earbuds Pouch
This is the one quick sewing project gift that I still have left on my list. I see my son untangling his earbuds from his pocket every day, so I think he will appreciate one of these pouches. I know this will be a fast project, so there is plenty of time left to get this crossed off my list.
Pocket Tissue Holder and Sanitizer Cozy
A pocket tissue holder is a perfect small gift that fits with the quick sewing projects theme. You could add another pocket to stash a small hand sanitizer with the Kleenex, or try this tutorial for a sanitizer cozy to give along with the tissue holder.
Last minute gifts for pets
Don't forget Fido or Fluffy! It's easy to whip up something for furry friends in a hurry, thankfully. I like sewing fleece stuffed bones for easy dog gifts. Here is a link to some other fast, easy ways of making dog toys, and here are ideas for quick sewing projects for kitties.
I hope you find plenty of time to get everything on your list done without any stress! Happy Holidays.