Among my group of friends, I'm the only one that sews. We all figure it's a skill that they'll all turn to me for after the Zombie Apocalypse. Kidding! I am the only one who sews and it is a valuable skill, but since I don't have a group of friends to sew with, I've made my own sewing buddies. Really, they're just stuffed animals I've made, but they sit in my swing area and keep me company when the cats take off at the sound of the sewing machine. If you need some sewing buddies too, check out these cute stuffed animal patterns and make some for yourself.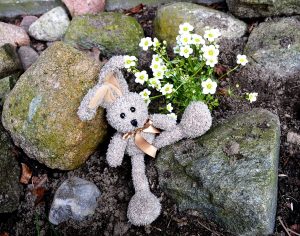 Stuffed Fox Sewing Pattern
Made from fleece, these little guys work up quickly and are loved by kids and adults. When finished, they're about 15" tall and have the sweetest faces. I used buttons for the eyes and nose, since there aren't young children playing with them in my house, but the applique idea is great for homes with kids. Make a girl one and a boy one so they can keep each other company.
Sock Monkey Pattern
I'm not sure why, but people seem to give me wild sox for birthday or Christmas gifts. I don't wear crazy socks, never have. I re-gift them when I can, but that's not always possible. So, this sock monkey sewing pattern is the perfect way to use those crazy socks and get myself a sewing buddy. Make two and they can cuddle with intertwined arms. Add some Velcro to their hands to keep the cuddle pose in place.
Fat Quarter Bunnies
I love these! So often when I'm at the fabric store, I see fat quarters and want to buy them, but typically, they'll wind up sitting in my fabric stash, never used. These sweet bunnies are the perfect use for those fat quarters and they're so cute in my sewing area.
Sock Dragon Sewing Pattern
Yet another awesome use for all those crazy socks I seem to get. The sock dragon is a bit more challenging than his cousin sock monkey, but it also uses an additional pair of socks! I love dragons, so having one, or several, in my sewing space is great company.
If you're looking for some sewing buddies, these stuffed animal patterns are a great way to make some company for yourself. Try them and let me know what you think!