Husqvarna Viking SAPPHIRE™ 835 Sewing and Quilting Machine
Time to shine with... Exceptional Capability, Clever Convenience and Inspiring Innovation.
Exceptional capability - Room for success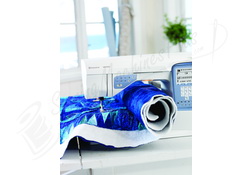 Extended sewing surface
Sew large quilts, home dec projects, and garments easily. The generous machine design offers plenty of sewing and fabric space. The open area from the side of the machine to the needle measures 250 mm (approximately 10).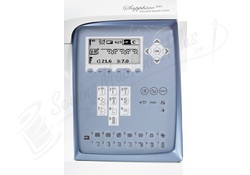 Large GraphicDisplay
See the stitch, in its actual size, and any adjustments before you sew. Simply touch the selection buttons on the easy Touch Panel or step through stitches with the Navigator Arrows. Everything you need to know is on the illuminated large GraphicDisplay.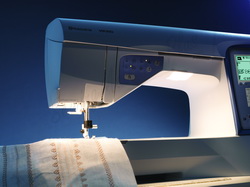 Dual Lights
Easy to see any color fabric or thread at any time of day. The Dual Lights on your HUSQVARNA VIKING® SAPPHIRE™ machine illuminate the needle and extended sewing surface to make sewing easy. The lights eliminate eye strain, especially when sewing fine details.
Clever convenience - Expert assistance for fast, perfect results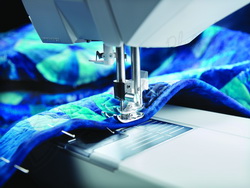 EXCLUSIVE SENSOR SYSTEM™
Adjusts to your fabric thickness for a perfect, even feed. The EXCLUSIVE SENSOR SYSTEM™ technology automatically raises and lowers the presser foot to four positions. When the machine stops with the needle down, the Sensor Foot Pivot raises the foot to the perfect float position for instant pivoting. Plus, the Sensor Foot Pressure automatically senses any fabric thickness and adjusts for a perfect even feed.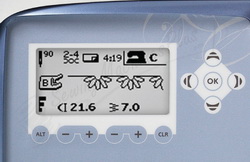 Exclusive SEWING ADVISOR ®
Easy and effortless. No guesswork! The exclusive SEWING ADVISOR® feature sets the best stitch, stitch width, stitch length, and sewing speed. Simply enter the type of fabric you are sewing and the technique you want to use. Immediately, the best stitch and settings are displayed on the large GraphicDisplay with the recommended presser foot, thread tension, needle size and type.
Inspiring innovation - The joy of giving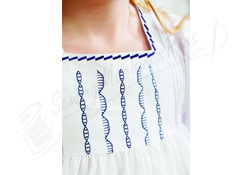 More than 100 stitches shown inside the lid
High quality stitches for every technique. Choose from more than 100 stitches - including utility, quilt, satin, heirloom and decorative stitches. Choose the stitch or stitch number on the easy touch panel and you are ready to sew! Your stitch appears in actual size at recommended settings on the GraphicDisplay. The SAPPHIRE™ 835 machine has 105 stitches, including 3 alphabet fonts.
Inspiration with the stunning SAPPHIRE™ sewing projects
Click here to download sewing instructions for the SAPPHIRE™ girl's blouse (PDF)
Click here to download sewing instructions for the SAPPHIRE™ jacket (PDF)
Click here to download sewing instructions for the SAPPHIRE™ quilt (PDF)
Additional Downloads
Stitch Overview
Click here to download the HUSQVARNA VIKING® SAPPHIRE™ stitch overview. (PDF)
All features and benefits
Click here to download the HUSQVARNA VIKING® SAPPHIRE™ features and benefits. (PDF)
Brochure
Click here to download the HUSQVARNA VIKING® SAPPHIRE™ sewing machine brochure. (PDF)
Comparison chart
Click here to download the HUSQVARNA VIKING® SAPPHIRE™ Comparison Chart. (PDF)
Included Accessories
Feet Included
Utility Foot A
Utility Foot B
Buttonhole Foot C
Blind Hem Foot D
Zipper Foot E
Non-Stick Glide Foot H
Edging Foot J
Embroidery/Darning Foot R
Sensor One-Step
Buttonhole Foot
Other Included
Thread nets
Non-Stick glide plates (2)
Light bulb remover
Seam ripper
Brush
Screwdriver
Felt pad (2)
Bobbins (5)
Extra spool caps: one large & one small
Multipurpose tool/button reed
Needles