Singer 160™ Limited Edition Sewing Machine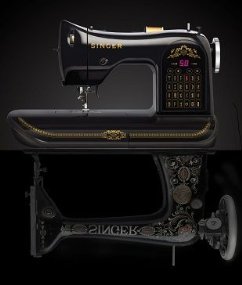 Vintage Inspired Design
Timeless Style and Modern Innovation. Introducing The SINGER 160™ limited edition sewing machine. Created to commemorate the SINGER® brand's 160 year anniversary by taking design cues from the past while introducing our simplest and most easy to use machine available.
Nostalgic black color, gold filigree and signature machine curves celebrate SINGERís anniversary by paying tribute to our historic designs. Features original "bird in flight" design that was featured on many previous SINGER machines over 100 years ago.
Features and Benefits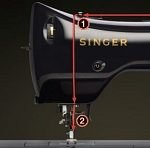 SwiftSmart Threading System with Automatic Needle Threader
Simply guide the thread directly from the spool to the needle area through a single groove and thread the needle by pressing the lever.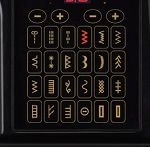 OneTouch Stitch Selection
Easy to select, easy to personalize.
Drop & Sew Bobbin System
With this special top drop-on bobbin, thereís no longer any need to raise the bobbin thread before sewing. Just drop and sew.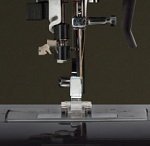 Presser Foot Sensor with Error Message and Buzzer
Ensures the presser foot is in position for an easy start.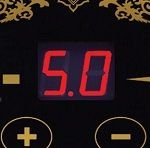 Quick View Stitch Setting
When either the length or width of a stitch is changed, the corresponding LED light turns yellow for notification of the change.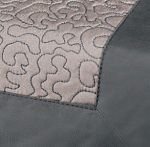 Drop Feed
A conveniently located lever lowers the feed dogs for free-motion embroidery, monograms, and button sewing.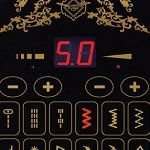 Simple Stitch Adjustment
Automatic optimal settings for stitch length and width can be overridden to personalize projects.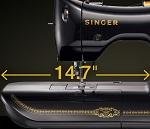 Extra-Large Sewing Space
The arm of the machine measures 14.7 inches, allowing sewers to easily manage quilts and other large projects.
03 StayBright™ LED Lights
Three lamps illuminate the sewing surface for optimal viewing. The long-lasting bulbs (100,000 hours) stay cool regardless of how long the machine is being operated.
Extra-High Presser Foot Lifter
Offers more clearance, which is needed when placing multiple layers or bulky fabric under the presser foot.
Heavy-Duty Metal Frame
The internal rigid support holds all the mechanisms in perfect alignment for skip-free sewing and overall durability.
Free Arm
Provides easy access to cuffs, collars, pant hems and other difficult-to-reach areas.
Center Zigzag Taper
When tapering with the zigzag stitch, the stitch tapers to the center not the left or right providing a more attractive look when tapering into or out from a point.
7mm Stitch Width
Many stitches can be set for a maximum width of 7mm for satin and decorative stitches.
Automatic Tension
This system ensures stable stitch quality regardless of the type of fabric.
Automatic Reverse
Push the conveniently located automatic reverse button to sew in reverse and reinforce the stitch.
Automatic Presser Foot Pressure Control
The amount of pressure exerted on the fabric by the presser foot against the feed dogs is adjusted automatically. Sew from the lightest weight tricots to the heaviest denim, without making presser foot pressure adjustments.
Sewing Speed
With a maximum sewing speed of 750 stitches-per-minute, projects can be sewn quickly.
7-Segment Feeding System
This is a specially designed feed dog that ensures that the fabric is picked up and supported from the front of the presser foot to the rear. This provides for much more accurate feeding of the fabric.
Box Feed
This is a function that moves the feed dogs in a box motion, rather than the historic arc motion. Box motion assures perfect feeding throughout the entire feed process, as the feed dogs are always in perfect and equal contact with the fabric and presser foot.
Accessory Storage
The accessories are conveniently stored in the removable storage compartment providing easy access.
Snap-On Presser Feet
Easily change snap-on presser feet without use of a screwdriver.
Thread Cutter
Located on the machine for precise thread cutting, eliminating the extra step ofcutting thread with scissors.
13 Needle Positions
Needle position can be changed for individual projects like inserting zippers, cording and topstitching.
12 Decorative Stitches
Create special details on any project.
4 Stretch Stitches
Specially designed to move with your fabric.
6 Essential Stitches
The core stitches of construction and mending.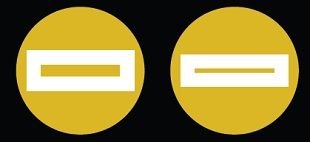 2 Fully Automatic 1-Step Buttonholes
For professional results at the touch of a button.
Standard Accessories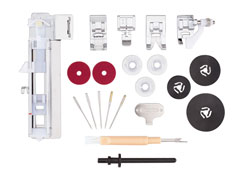 All-Purpose Foot
Zipper Foot
Buttonhole Foot with Underplate
Blind Hem Foot
Satin Stitch Foot
Pack of Needles
Bobbins (Class 15J)
Thread Spool Caps
Auxiliary Spool Pin
Spool Pin Felt
Needle Plate Screwdriver
Seam Ripper / Lint Brush
Soft-Sided Dust Cover
Instruction Manual
Power Cord
Foot Control