Miele S2120 Olympus Canister Vacuum Cleaner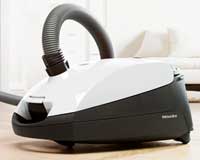 The Miele Olympus vacuum cleaner features the high output, Miele-made Vortex Motor System™ for best cleaning results. Suction power is controlled with a rotary dial providing six power settings. Use the gentle setting for cleaning draperies.
Included is the Classic Combination floor tool for both carpet and smooth flooring, a non-electric hose and a stainless steel telescoping wand. Three accessories fit into the onboard VarioClip™: a crevice tool, a natural bristle dusting brush and an upholstery nozzle.
Easy glide caster wheels make for easy movement while vacuuming.
Miele Vacuum Cleaners Provide Superior Air Filtration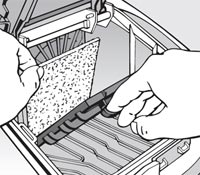 The design and construction of the canister uses the very best raw materials to ensure indoor air quality.
The AirClean™ filter is made of electrostatically charged multi-ply material to capture and retain dust particles and allergens. It can trap 99.95% of particles as small as 0.5 micron and 94% of particles down to 0.3 micron. A human hair is about 100 microns thick, by comparison. This long lasting filter is good for up to five dustbags.
The AirClean™ dustbag is also made of electrostatically charged multi-layer material. It features a spring loaded, self-locking collar to prevent the release of the dust and dirt you've vacuumed. The nine-layer bag material resists cuts and punctures.
Key Features of the Miele Olympus Vacuum Cleaner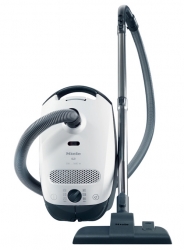 Features

• Impressive 29.5-foot operating radius.
• Dustbag change indicator alerts you to replace the hygienic bag.
• Quiet operation through better engineering.
• Filter Bag.
• Powerful 1,200 watt motor.
• AirClean System™: Filter, dustbag and canister construction.
• Safety shut-off on overheating.
• Space-saving storage bracket on side of vacuum.

Color.

Lotus white.

Dimensions.

Height: 8.25 Inches.
Width: 11.25 Inches.
Length: 18 Inches.

Controls.
Suction power is controlled with a rotary dial. There are 6 variable power settings.

Power.
The Miele S2 motor is a real power pack at 1200 watts! It is developed and produced in the Miele factories in Germany. Optimal usage of power through the airflow. The result is great cleaning performance with superior dust intake.

Super Air Clean Filter.
The Super Air Clean filter is designed for normal use. It is made of multi-ply material which is electrostatically charged to retain dust particles. 99.95% of particles are kept down to 0.5 of a micron and 94% of particles down to 0.3 of a micron. By comparison, a human hair is about 100 microns thick.

This filter lasts as long as 5 dustbags and is included with each box of Miele certified dust bags.

AirClean™ Dustbags.
Miele's revolutionary and patented AirClean™ dustbag is an important component of the Olympus' filtration system. This unique bag is a 9-layer fortress of electrostatically charged material that traps micro-sized debris in the airtight vacuum chamber.

With its spring-loaded, self-locking collar you're never exposed to the tiny, lung-damaging dust and allergens you worked to vacuum up!

Included Floor Tools & Accessories

Classic Combination Carpet / Smooth Floor Tool.

The SBD350-3 Classic Combination carpet / smooth floor tool is ideal for all smooth flooring and low-pile carpeting. Move from smooth floors to carpeted surfaces with ease. A quick click of the rocker switch makes the change.

Wand.

Stainless steel, telescopic wand.

Hose.

Non-electric hose.

Accessories.

The best cleaning comes from the best tools. That's why the Miele Olympus vacuum cleaner comes standard with a useful VarioClip. The VarioClip can be attached to the hose at virtually any location. It holds three handy and durable accessory tools.
• A crevice nozzle.
• A dusting brush with natural bristles.
• An upholstery tool.

You can reach these tools quickly and clean everything in sight, even those hard to reach places like behind the sofa or between the refrigerator and cabinets.





Need more supplies? Just check the boxes and click "Add to Cart" to pick up everything at once!