Call 800-401-8151

To Speak With An Expert Sewing Consultant
We'll help you find the perfect product and provide lifetime support for any purchase. E-mail us here.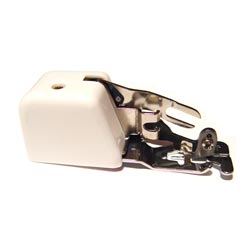 (More images coming later.)
Singer Sewing Machine Side Cutter II Low Shank Singer
To simulate a serged stitch on a sewing machine, nothing comes closer than the side cutter foot. Easily sew an overcasting stitch to lock thread around the edge of fabric, perfectly aligned with the edge.
Presser Foot Side Cutter II is an Attachment for Zig-Zag Sewing Machines
Blade is attached very close to the presser foot where sewing is made.
Attachment for Zig-Zag Sewing Machines.
It will make a professional serge stitch by cutting the fabric.
Very compact design.
Sharp cutting.
You can cut along the line on the material, when sewing.
Just attach to the machine by replacing with the presser foot.
Does not prevent you from looking at the needle, sewing from the front.
You can use this attachment easily as one the the presser feet for hemmer sewing.
Fits Singer series 2517, 3270, 3343, 4830, 5000, 5400, 570, 5800, 57000, 3800, 6038, 1100, 2600, 132, 6500, 7300, Featherweight II, 3400, 8090, 7400, CG500, HD10 and 9900.