Juki MO-734DE 2/3/4 Thread Serger Overlock Machine
Lay-In Threading
Threading the MO-734DE is a breeze. The lay-in system lets you thread quickly and easily. The color coded numbered threading system, takes the guesswork out of threading.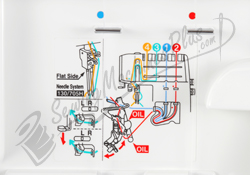 Color Coded Thread Paths
Threading is fast and easy with the fool-proof, color-coded thread path system. Just follow the color indicators and lay thread into the guides. Fast and Easy!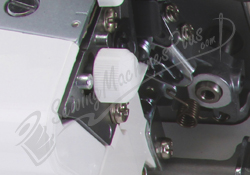 Super Easy Looper Threading
The lower looper threader disengages for fast, easy looper threading, in seconds.
Just slide the thread into the slot and snap the looper into place.
Automatic Needle Threader
Threading that is fast, easy and done with a simple push of a lever.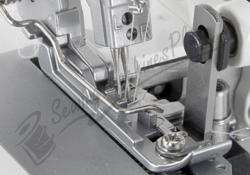 Multi-Function Presser Foot
The multipurpose presser foot, standard on the MO-734DE, allows you to create overlock stitches and add tape, elastic, ribbon, or sequins to your creations.
Snap-on presser feet mean that you can easily change from the multi-purpose foot to one of the Juki Specialty feet and expand the creative potential of the MO-734DE.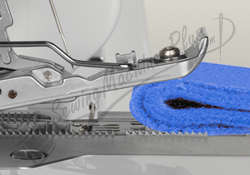 Front Extra-High Foot Lift
The Extra-High front foot lift option allows for thick fabric, or layers of fabric to be handle with ease.
The adjustable foot pressure dial allows for foot presser to be increased or decreased to handle any fabric.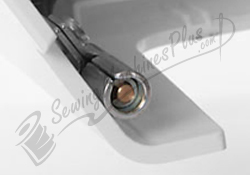 Safety First!
Micro safety switches on the front and side covers provide extra safety when sewing. If the covers are open, the machine will not sew.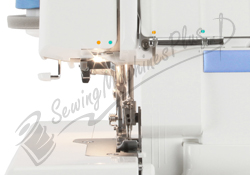 Serging Precision
The built-in seam guide takes the guesswork out of seam allowances. Just use the conveniently located gauge on the guard cover and serge away, creating accurate seam allowances as you go.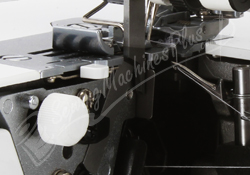 Heavy Duty Upper & Lower Knife System
The knife system on the MO-734DE operates with a dedicated drive to assure consistent and smooth cutting for both light and heavy weight fabrics - so all fabric edges can be trimmed safely and professionally.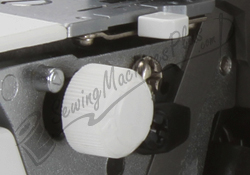 Easy Cutting Width Adjustment
The lower knife cutting width easily and quickly adjusts with the turn of the dial allowing you to create perfect seams and rolled edges.
Differential Feed Adjustment
Keep things moving along evenly, or create fashion techniques, like lettuce edges, with the easy to use Differential Feed dial.
Easy Stitch Length Adjustments
Change the stitch length for specialty thread or overlock techniques using the conveniently located dial.
Up and Out of the Way
The upper knife arm can be effortlessly released with a press of a button to provide more sewing room. This is useful when do not need to trim the fabric edge.
Flip and Roll
Automatic rolled hemming can be created quickly and easily with a flip of a switch. No need to change the needle plate or foot - Just Flip and Roll!
Popular Stitch Variations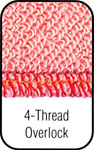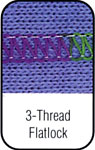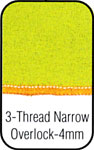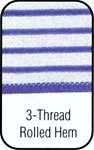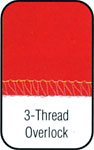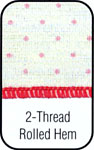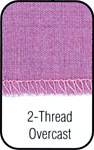 Standard Features
Retractable Upper Knife.
2/3 Thread Conversion Cap.
Lay-In Type Thread Tension Slots.
Threading.

Automatic Needle Threader.
Color-Coded Threading Guides.
Automatic Looper Threading.
Slit-Type Molded Looper Threading.

Adjustments.

Adjustable Stitch Length (external).
Adjustable Differential Feed.
Adjustable Lower Knife.

Wide Overedge Width of 5 - 9mm.
Higher Presser Foot Lift.
Sewing Light.
Micro Safety Stitch.
Parts/Accessory Kit.
Convenient Waste Bin.
Specifications
Sewing Speed.

Maximum 1,500 spm.

Number of Threads.

2/3/4 Threads.

Needle.

Household Machine Size 11 or 14.

Overlocking Width.

Left Needle: 7mm.
Right Needle: 5mm.
Rolled Hem: 2mm.

Stitch Length.

1 - 4mm.
Standard: 2.5mm.
Rolled Hem: 1 - 1.5mm.

Differential Feed.

0.7 : 2.0 Ratio.

Built-In Rolled Hemming.

Right (Narrow) or Left (Wide) Needle.
2 or 3 Thread.
Flat Lock.

Right or Left Needle.
2 or 3 Thread.

Universal Presser Foot.

Tape, Ribbon, Narrow Elastic Application.

Presser Foot Lift.

5mm.

Multi-Purpose Presser Foot.

For tape, ribbon, narrow elastic applications.

Dimensions.

315mm Wide.
370mm High.
285mm Deep.

Weight.

8.4 kg (16.6 lbs.).

Juki Limited Warranty.

2 Years electrical.
5 Years mechanical.
Included Accessories
Needle pack.
2/3 thread selector.
Needle threader.
Presser foot.
Spare lower knife.
Plastic nets.
Spool caps.
Brush & needle inserter tool.
Tweezers.
Large screwdriver.
Small screwdriver.
Oiler.
Light bulb replacement tool.
Foot control and power cord.
Support bed.
Accessory pouch.
Instruction manual.
Vinyl cover.
Waste collection bin.
Downloads
Juki MO-734DE and Juki MO-735 Features and Machine Setup.
Diagram showing how to thread a 4-thread serger.