Call 800-401-8151

To Speak With An Expert Sewing Consultant
We'll help you find the perfect product and provide lifetime support for any purchase. E-mail us here.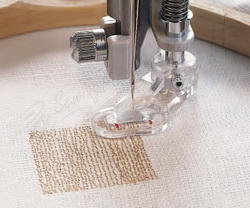 (More images coming later.)
Darning / Quilting Free Motion Guide Foot for Viking - 412541745
5 | 6 - Not for EMERALD™ series.
Straight stitch, drop feed teeth, presser foot pressure darning position. Snap on the Darning/Quilting Foot.
To Use:
Place fabric under foot.
Bring the bobbin thread to the top by turning the hand wheel.
Lower the presser foot.
Sew, moving fabric as desired to quilt or darn fabric. Move fabric in a smooth motion, moving faster as speed of machine is increased.