Call 800-401-8151

To Speak With An Expert Sewing Consultant
We'll help you find the perfect product and provide lifetime support for any purchase. E-mail us here.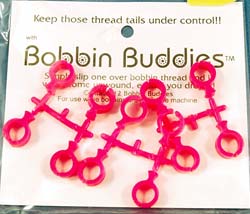 (More images coming later.)
Tacony
SKU: tacony-BB24
Bobbin Buddies 24 pk
Call 800-401-8151 For Details
This product has been discontinued and is no longer available
Bobbin Buddies keep thread tails under control. Simply slip one over a threaded bobbin and it won't come unwound. Contains 12 Bobbin Buddies.
For use while bobbins are not in the machine. Bobbin Buddies do not fit Singer Touch & Sew bobbins.