Expert Sewing Consultants Here For You!
We'll help you find the perfect product and provide lifetime support for any purchase.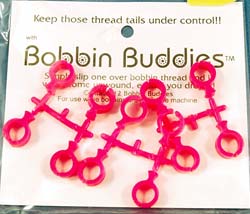 (More images coming later.)
Bobbin Buddies keep thread tails under control. Simply slip one over a threaded bobbin and it won't come unwound. Contains 12 Bobbin Buddies.
For use while bobbins are not in the machine. Bobbin Buddies do not fit Singer Touch & Sew bobbins.