Bernina artista 635 Limited Edition Sewing, Quilting, and Embroidery Machine
Discover Your Creative Options with The Limited Edition artista 635
The artista 635 is a highly sophisticated sewing machine with extensive practical and decorative stitches for sewing. The optional embroidery module and BERNINA embroidery software (such as BERNINA ArtLink) transform it into the perfect embroidery system. And thanks to the BERNINA Stitch Regulator, it's also a first-class quilter. Attractive decorative stitches up to 5mm wide are possible when sewing.
Product Features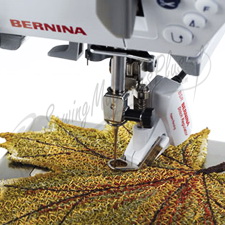 BERNINA Stitch Regulator (optional)
BSR – BERNINA Stitch Regulator (optional). The revolutionary features that make free-motion quilting a cinch: BSR, the BERNINA Stitch Regulator. The BSR regulates free-motion stitching, ensuring consistent stitch length, even at variable sewing speeds. A highlight: the BSR foot can even sew zigzag stitches.
Multifunction knobs
Sewing and embroidering the easy way: Use the multifunction knobs to adjust stitch length and width. You can infinitely scale, position and rotate designs in the embroidery area, as well as work with them in the Tutorial. Thanks to the state-of-the-art user interface, all settings are immediately visible.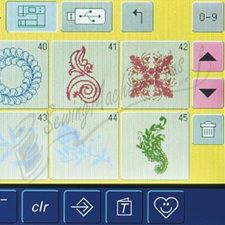 Built-in embroidery designs
You have a choice of 70 pre-installed designs, including floral, quilting and children's motifs. Being able to freely combine and edit designs and alphabets on-screen will give your creativity wings!
Infinitely adjustable presser-foot pressure
The stepless control of presser-foot pressure lets you achieve the most even fabric feed possible, thereby creating the perfect seam with all thicknesses of fabric, from coarse to delicate.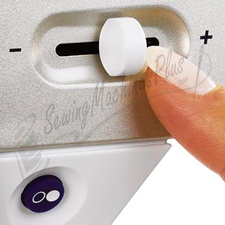 Start/stop key and speed control
The start/stop button and the speed control are an ideal double-act, letting you sew without a foot control – a real boon with long seams and quilt projects. The speed control allows you to adjust the speed to your individual requirements.
Included Accessories:
BERNINA offers you a wide selection of accessories that give free rein to your creativity. Choose from our extensive range of presser feet and from specialty BERNINA accessories for sewing, quilting, embroidering, and serging.
(Note: Not all models and accessories are available in all countries. We reserve the right to make changes in both features and design.)
Reverse pattern foot # 1 / 1C / 1D
Reverse pattern foot # 1 / 1C / 1D is the ideal presser foot for sewing forward and reverse-feed utility and decorative stitches.
Overlock foot # 2 / 2A
Overlock foot # 2 / 2A lets you neaten seams easily and sew high-quality hems, waistbands and overlock seams on knit fabrics.
Buttonhole foot # 3 / 3C
Buttonhole foot # 3 / 3C is the natural choice for easy sewing of buttonholes with and without cording, and is also ideal for gathering with cord.
Buttonhole foot with slide # 3A / 3B / 3C
Depending on the model, Buttonhole foot with slide # 3A / 3B / 3C determines the desired buttonhole length for identical buttonholes either via a sensor or manually.
Zipper foot # 4 / 4D
Thanks to its narrow, centrally positioned toe, Zipper foot # 4 / 4D can stitch very close to the zipper coils, allowing it to sew the zipper on neatly.
Blindstitch foot # 5
Blindstitch foot # 5 is suitable for sewing blind hems on all fabrics. When this foot is used, you can hardly see the stitching from the front.
Darning foot # 9
The vertical spring action of Darning foot # 9 prevents the fabric from flagging and produces a neat stitch pattern. This foot is also suitable for free-motion embroidery.
Open embroidery foot # 20 / 20C / 20D
Open embroidery foot # 20 / 20C / 20D is ideal for embroidering with your sewing machine. The indentation in the sole of the presser foot allows it to glide smoothly over dense stitches.
Specifications & Features:
General Information
Hook system - CB
Maximum sewing speed (stitches per minute) - 900
Colour touchscreen - YES
LED sewing lights - CFL
Maximum stitch width - 5,5
Maximum stitch length - 5
Needle positions - 11
Sewing in each needle position - YES
Semi-automatic needle threader - NO
Automatic thread cutter - No
Manual thread cutter - 3
BERNINA Dual Feed - NO
Memory (short-term/altered stitches) - YES
Memory (long-term/altered stitches) - YES
BSR functionalit y (straight stitch and zigzag) - YES
Start/stop button (stitching without foot control) - YES
Slide speed control - YES
Upper thread indicator - YES
Lower thread indicator - NO
USB interface for PC connection - YES
USB interface for USB data stick - YES
Multi-function knobs - YES
Changing stitch settings while sewing - YES
BERNINA foot control with kick-back function - YES
Needle stop up/down - YES
Built-in needle threader - YES
Bobbin winding while sewing/embroidering - YES
On-screen help - NO
Sewing tutorial - NO
Embroidery tutorial - YES
Creative consultant - NO
Personal program - YES
History function (most-recently-used stitch patterns) - NO
Setup program - YES
Language selection - YES
Alarm clock - NO
Eco mode - NO
Sewing & Quilting
Pattern mirroring - YES
Directional sewing 360° - NO
Sideways motion feed - NO
Pattern start/end function - YES
Connecting stitches - NO
Elongation - YES
Security function program - YES
Number of stitch patterns (incl. alphabet) total - 674
Utility stitches total - 25
Buttonholes (incl. eyelet) total - 7
Automatic buttonhole-length measuring system - YES
Automatic buttonhole - YES
Manual multi-step buttonhole - YES
Button sew-on program - YES
Darning programs - 2
Decorative stitches total - 213
Decorative sideways motion stitches - NO
Quilting stitches total - 25
Cross-stitch programs - 11
Tapering/skyline stitches - NO
Sewing alphabets - 4
Monograms (with sideways motion) - NO
Embroidery
Maximum embroidery speed (stitches per minute) - 680
Stock embroidery designs - 70
Embroidery alphabets - 5
Embroidery design format - .EXP
Mega hoop functionality - YES
Jumbo hoop functionality - NO
Free-arm embroidery - Optional
On-screen editing of designs: mirroring, rotating, combining, scaling - YES
Personal memory for embroidery designs - YES
Standard embroidery hoops** - 1(o)
Word ART - NO
Drag & Drop - NO
Importing stitch patterns - NO
Colour resequence - NO
Automatic jump-stitch cutting - NO
Sequence control - YES
Basting - NO
Endless embroidery - NO
Position recall - NO
BERNINA ArtLink embroidery software (downloadable from bernina.com) - YES