Call 800-401-8151

To Speak With An Expert Sewing Consultant
We'll help you find the perfect product and provide lifetime support for any purchase. E-mail us here.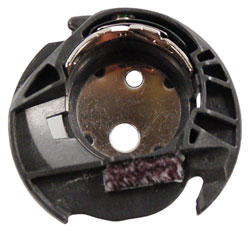 (More images coming later.)
Fits Brother sewing machine models CE4000LCD, CS100, CS6000T, CS6000, CS6000B, CS8060, CS8100, CS8150, CS8200, NV500D, NV1000D, NV1200, NV1500D, NV2500D, NV4000D, NV4500D, NV6000D, NX200, NX250, NX400, NX450, NX600, NX650, QC1000, PE-700 II and SE270D.
Fits Baby Lock sewing machine models BLCC, BLCC2, BLDC, BLDC2, BLQC, BLQC2, BLG, BLG2, BLL, BLN, BLR, BLR2, BLSR, BLSO and INT.
Bobbin Case XC3153051 will fit any machine that uses bobbin case part numbers XD1118021, 81348, XC3152021, XC3152221
REVIEWS

Global Rating: 5.00 from 1 reviews
Add your review of this product
QUILTER
Jun 15, 2010
JOYCE E SURRATT
PAHRUMP NE US
I PURCHASED THIS BOBBIN CASE BECAUSE THE SEWING MACHINE COMPANY THAT REPAIRS SEWING MACHINES SAID THEY (HE) COULD NOT FIND A CASE TO FIT MY BL3800 MACHINE. I GOT ON LINE AND FOUND SEWING MACHINES PLUS AND IN MINUTES I ORDERED THIS BOBBIN CASE AND MY MACHNE SEWS WONDERFUL. NO MORE PROBLEMS FOR THE PAST YEAR AND A HALF APPROX.
Rating:
Global Rating: 5.00 stars from 1 reviews
View All Reviews