Need the perfect dress for an upcoming special event? Instead of perusing rack after rack of unimaginative, pricey finery consider making it yourself. Not only will you get exactly what you're looking for, it's a sure thing that no one else will be wearing the same dress as you.
Points for Originality
Even if you're not a someone who designs her own patterns, making and wearing your own dress will definitely get you noticed. You'll look stunning and you'll be wearing something completely unique. In this day and age when everyone wants to be recognized for their personality and individual contributions, you'll certainly earn points for wearing something stunning that you made yourself.
Your Choice
Rather than trying to find something that shows off your style, fits your budget and looks great on you from the limited selections in department store – making a dress yourself means you'll be able to choose the style, fit and fabric that's best for you. Show off your natural beauty with a dress that accents your coloring and body type.
Works for Formal Functions Too
Formal events like galas or weddings may not seem like that best opportunity to make your own dress, but it's actually a great time to do so. Making a more formal dress may take a bit longer, but the results will amaze everyone. If you've never taken on something like this, trust me, it's not as hard as you think!
There are some extra steps like creating the tulle under layer(s), feeding the whale bone (plastic) bodice pieces and/or adding lace or other details. Although these seem intimidating, anyone with basic sewing skills can do them – you just have to be willing to try.
Show It Off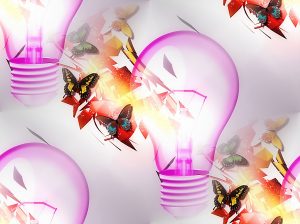 After all the hard work you put in to making your amazing dress, show it off at the big event. Get up, dance, strut your stuff to and from the buffet table, and when people start complimenting you on your attire, don't be afraid to say you made it. Although you don't want to overshadow the guest of honor (unless it's you, of course) there's nothing wrong with showing off your finery.
If you can, add some handmade accessories to complete the look. Items like hand made, one-of-a-kind jewelry, scarves or shawls will give your dress the final splash and pizazz it needs. If you don't make any of these items yourself, maybe you've got some crafty friends who do and would like to contribute to your amazing look.
Remember
A few points to remember:
Hem with shoes in mind. If you're wearing heals to the big event, make sure you have those shoes on when determining hem length so the dress will fall correctly.
Event location. If the event is going to be indoors or outdoors, you may need incorporate layers or a cover up depending on the time of year and your sensitivity to cold/heat.
Make a muslin first. If you're at all unsure about the dress you're going to make – how well it'll fit or will look on you – take the time to make a muslin demo piece first. It does extend the length of time it takes you to arrive at the finished product, but it can also mean the difference between a project you love and one you don't.