It's officially Christmas week, guys! The day is just around the corner, and soon we'll be heading into a less twinkle-lit world. Until then though, there's still time to revel in the holiday for one more blog post! For this particular one, how about we go with a nice wrap-up idea?
You see, I've covered a tree skirt, ornaments, and homemade gifts, but if you chose to go all of those routes, you potentially would have collected a series of Christmas fabrics. Each project could have its own material, so there might be quite the variety. Another decent assumption would be that you didn't have just enough material for all projects, so you could easily have scraps of Christmas fabric left over from your handmade-Christmas-extravaganza.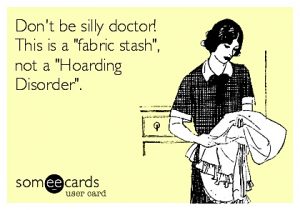 Sure, you could stash it away for future use, but if you keep every scrap of material you ever come across, you're treading on fabric-hoarder territory! There's nothing wrong with keeping the pieces that would reasonably be user-friendly in the future, but I'm talking about the small bits that won't be much use without other smaller parts to make something happen, or for a small enough project.
So, maybe this post will help keep that fabric stash a little smaller and farther from hoarder territory by answering one simple question: What projects can you do with those small parts of leftover Christmas fabric?
Answer: Plenty, and I plan to take you through a number of those options!
Possibility #1: Make a banner
This is such a simple option, but it can add a classy touch to your Christmas decorations. All you need to do is pick a shape for your fabric, cut the scraps in that shape, make sure those hems are smooth, and link them together—maybe with some ribbon or yarn. If you're feeling particular, you can make sure that each of those shapes is two-sided by sewing two pieces together—maybe spice things up by using more than one fabric for the cause. With that method, you could have (as an example) a bell-shaped addition to your banner that has Rudolph on one side and Frosty on the other! If you're good at embroidery, use enough shapes to embroider a message across. You could even do this laundry-line idea if you had the right fabric! The options on this idea alone are numerous!
Possibility #2: Make fabric garland
This is like the banner, but requires strips of fabric tied instead of differently shaped pieces embellished and sewn. I mean, sure, you could add gems and such, but the draping quality of the fabric is kind of its distinctive factor, which doesn't leave a whole lot of room for the Merry Christmas message! Still, this is a simple, elegant idea that could add a touch of holiday cheer to your house by hanging from your mantel. And, as is the main idea of the post, it's a great way to use that extra Christmas fabric you might have once you finish your holiday sewing projects!
Possibility #3: Make a Christmas tote
While you might not have enough material to make the entire tote in one style (then again, maybe you will!), you could create a patchwork look for a homemade Christmas tote! You can find patterns for totes here, and Sewing Machines Plus offers free patterns for bags as well. Can you imagine a patched-up Christmas tote in this design! I would definitely carry one of those!
Possibility #4: Make fabric bookmarks
Call me a literature nerd, but how awesome would it be to give someone a copy of A Christmas Carol with a hand-sewn bookmark to go along with it? In fact, this could be a thing you do next year — give out holiday classics with hand-sewn bookmarks in Christmas fabrics! These projects are small, and who knows how many you could make in one day? And they require little fabric, which is the theme of this post! Whether it's to hold your place for your own holiday reading or for small gift-gestures to let someone know you're thinking of them, these creations could bring a festive touch to a book-and-hot-chocolate December time!
Possibility #5: Make a keychain
Since childhood, I've had an interest in keychains. I don't know why, but it's true just the same. So, why not take a bit of that excess material and make a one-of-a-kind keychain? Keyrings don't have to be expensive, and it's possible that everything else you'd need you could find around your house—maybe even down to buttons like what you see in the picture. Given the teeny-tiny-ness of keychains, this craft would be a good way to use some of that excess fabric! You can find this possibility (and #5) here!
So, the moral of the story is that you don't have to be a Christmas-fabric hoarder after your holiday sewing! There are plenty of avenues to expend some of that scrap material!