Growing up, my Mom had one of those metal Singer sewing machines that lived in a cabinet, the kind that folded in on itself where the machine dropped down underneath so that when not in use, the whole shebang was just an unassuming small wooden table.
That's the machine I learned how to sew on, downstairs in the basement laundry room of my parent's ranch style house in rural Ohio. Shoved against a wall right next to the furnace closet that, somehow, also contained the laundry shoot, there was barely room for the machine table. When you unfolded the top, it blocked the doorway. Clothes lines stretched across the ceiling of the room and the air space above the sewing machine was most often occupied by my father's button down dress shirts either waiting to be ironed or just fresh off the board. I would bend over the machine with only its tiny little internal light to see by, trying to keep my stitches straight while the sleeves of my father's shirts brushed against the top of my head.
Oldie but a goodie
It's a wonder I ever completed a garment. But somehow I did. I constructed quite a few. Sometimes, I think that those early years of sewing with inadequate lighting next to a furnace room in the basement among men's dress shirts perfectly prepared me for a career as a film and television tailor. If you can sew on a tiny table wedged into a rack of clothes on the back of a wardrobe truck and still create a well fitting and properly constructed garment while six different people ask you how long its going to take, you are well suited to be a film tailor. Cut out a perfect circle skirt with no pattern in five minutes or less on the tailgate of the same truck, and you will likely be a hero – at least for that day.
Tradition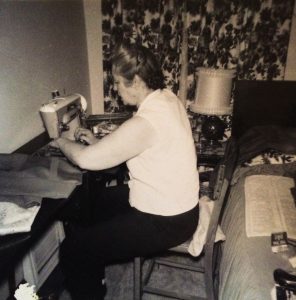 My maternal Grandmother, my Nana, also sewed a lot. She had a whole room allotted for sewing, though it also held a bed and dresser. She sewed in the narrow space between the bed and the wall, only able to push her chair out so far. There are quite a few pictures of her at the machine. She made dresses for my Mom when she was a girl and later, jumpers and pants for me. She had a Singer 401 – the tan and cream model, the kind with the decorative stitch black cams that you insert into the top. The cabinet is long gone, but I still have the machine.
At that time in history, when I was young and my mom was young, the 1940s through the 1970s, sewing machines were common in most households. A lot of those machines were lodged into corners and narrow pathways. People laid their patterns out on wood floors, or the dining room table, or even the bed. Prom dresses and bridal gowns and Sunday bests were created in small, dimly lit spaces across the world by women and girls and boys (yes even boys), all of them heroes.
What about you?
Do you have a young person in your life who has discovered the joy of creation and sewing? If so, perhaps this might be the year to get them their very own machine – if you haven't yet.
I've written before about the wonderful lightweight affordable machines Brother makes like the CS-5055 and the PC-210.
Either of these machines would make an excellent gift for that young dressmaker and tailor in your life. They are the perfect size to jockey into an unused corner with no light and launch the next generation of resilient, adaptable and creative sewers.