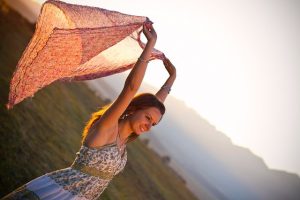 When shopping in a department store or online, you're stuck with today's fashions and color trends. If these suit your body style and personality, count yourself lucky! For the creative types among us, these can often feel confining. Sewing your own clothes and accessories is a great way to express yourself.
Fabrics Galore
Whether you like cottons, silks, man-made blends or a unique combination there's a dizzying array of colors, prints and patterns available online and at your nearest fabric shop. If you like bright, bold designs or something more earth-toned, there's a multitude of choices available.
Patterns and Freehand
If you're one of those super talented folks who can create your own patterns, count yourself lucky. You've got an additional way to express yourself with your wardrobe. If you're not one of those people, don't worry about it – you can still express yourself with a pattern. There are so many patterns available, ranging from simple to complex.
Scarf Dance
Ok, you don't really have to dance if you don't want to, but making a scarf, or a number of them, in fabrics that compliment and enhance your existing clothes is and easy and fun way to express your personality with your wardrobe. Scarves aren't terribly expensive to make and they're so much fun, you may actually want to dance and spin with them. If you're not one for scarves, the same project can also be used to make a fabulous belt.
If there's a fabric or pattern that's calling to you, go with it.
Go Wild
You don't have to be a fan of animal prints or bold colors to express your wild side. Polka dots, swirls, paisley and other patterns in a variety of muted hues give your wardrobe the personality and zing it's been lacking. They work well as scarves or other accessory pieces, or larger projects such as shirts, skirts, dresses or pants. You can even bring your style into the office by using these fabrics to create a business suit or sport jacket.
Don't Hold Back
If there's a fabric or pattern that's calling to you, go with it. If it seems outside your normal style, all the better. Having one or two pieces that stand out from your usual wear means you can express your wild side when it needs to be freed without feeling pressured to show it off all the time. Days you want to stand out from the crowd, you'll have a couple of unique pieces to show off.
Find Your Balance
We all have a wild side and a more conservative side. Create pieces that allow you to express both sides – or anything in between! If you have more conservative days than wild days (or vice versa), create the appropriate number of pieces and accessories to give you the right balance for your style and your life.
Share some of your favorite pieces – the ones that you feel express the real you.