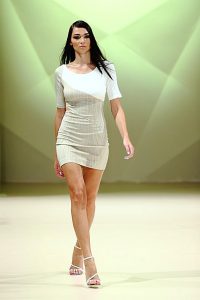 How cool is this? Project Runway uses Brother sewing machines to create their fabulous fashions. To celebrate, we've got some amazing Free Brother Sewing Projects right from Project Runway. You'll love making them and wearing them!
Feathered Skirt
Christopher Palu shares his amazing feathering technique. It's easier than you might think and makes any fabric look gorgeous. He teaches it to you in this free pencil skirt pattern. You'll need two different fabrics, one solid and one patterned, that look well together and a zipper. Give it a shot and share a picture of your results!
Makeup Bag
No fashionista's get up is complete without makeup and way to touch up imperfections on the go. Seth Aaron's makeup bag pattern is the ultimate in makeup carry-alls. There's room for all your makeup essentials inside the bag and the exterior strap holds all the brushes you'll need to keep your face looking its best all day and night long.
Custom Laptop Case
In the on-the-go world we live in, most people carry their laptop with them at some point. This is simply another way to show your style. Forget those laptop cases you can buy at any retailer. Instead, create a custom laptop case with Joshua Cook's pattern. It works up quickly in less than 20 steps.
Earrings
Yes, that's right, you can make earrings with your Brother sewing machine. They're a great way to practice your embroidery skills. Anthony Auld shows you how to get fashion on your ears using your Brother in this free Embroidered Earrings pattern. Make sure to share pictures of your amazing earring creations.
Whether you're looking to practice your sewing skills or learn some new ones, these fabulous Project Runway Free sewing patterns for Brother are a great place to start. They'll add some class and style to your wardrobe, too – you'll feel like you just stepped off the runway!