You may or may not know this yet, but besides writing and sewing – and writing about sewing – I'm also a children's author. My newest book is about a rock with a crazy big dream – one that will transform her life. The main character, Adri – which is Sanskrit for rock – is captured so beautifully by my illustrator that I feel inspired to create giveaways. Giving a rock personality without humanizing it is a real challenge, as I'm sure you can imagine, so I was completely blown away by the illustrations.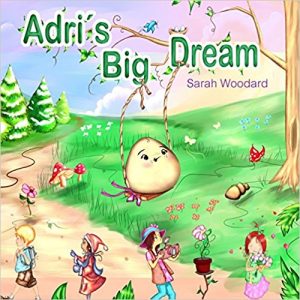 To capture Adri in 3D, I've been playing around with gray fabrics. And let me tell you – there's A LOT more shades of gray than you might think. Anyway, I've been playing around with gray colors and different fabric textures and combining it with different stuffing types to create Adri giveaways. But here's the thing – and this is where I'd love some help from all of you – a stuffed rock is soft. On the one hand, that's good since it's a kid's book and I don't want anyone getting hurt. On the other hand, rocks aren't soft so anything I sew and stuff won't be too realistic. I'm torn about what to do.
There are other characters in the book, though they don't have names. Flowers, mainly. I'm wondering if it's better to make a soft giveaway that recreates one of the flower characters and use actual rocks, maybe with glued on eyes, to make Adri. For those of you my age and older, you may remember pet rocks. I'm thinking something along those lines, though hopefully it's not a copyrighted toy.
What do you think?
As sewers, readers, parents, would you prefer a soft, sewn "rock" or an actual rock giveaway? Is it even necessary to have a giveaway? I'd love to hear your thoughts, suggestions and any other ideas you have for helping engage kids and their parents in my book.