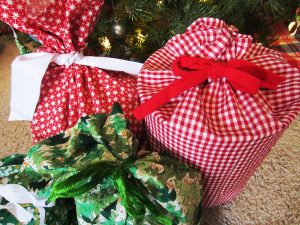 Ready for a DIY project that will last for years and is good for the environment (and your pocket book?) This year, instead of wrapping your gifts in holiday paper that will be thrown away after the presents are opened, consider making fabric gift bags instead. I made five different sized bags in under 20 minutes. Here is how.
Assemble your fabric.
Get all of the holiday-themed fabric scraps you've been hoarding. The sky is the limit on the sizes you can make as presents come in all manner of shapes, sizes and weights/heights.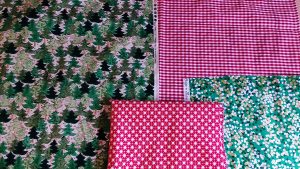 To keep this project FAST, you aren't going to finish any of the seams, which means you need to use pinking shears, a serger or a zig zag stitch to finish your raw edges.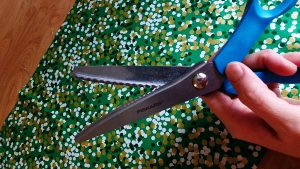 Great deals on sergers here
If you've been thinking about getting a serger, SewingMachinesPlus.com has them on sale right now, right in time for the holidays. This Juki Garnet Serger is the one I've been looking at. I love that it comes with bonus feet and additional thread cones.
Square up your fabric, fold over, pin, and then sew a straight stitch around all three sides. Leaving the tops of the fabric gift bags exposed (but pinked) will give them a whimsical, handmade feel.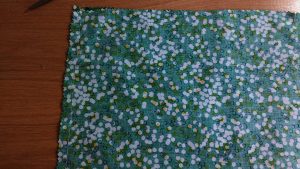 Nice little folds
For this fabric, I decided to create box corners (think like a brown paper lunch bag).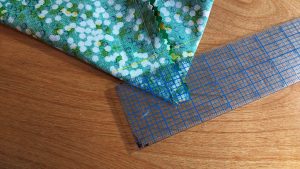 I also wanted to add a casual drawstring. To do this without creating a casing, I marked every 1.5″ and then snipped the openings. I love these Clover Chalk-Liner pens. They are an essential part of my sewing tool kit. They mark precisely and I can just sweep off the chalk when I'm done.
Ribbon feeding trick
I used a safety pin attached to the end of some twill tape to feed the twill through the holes I'd clipped to create the drawstring for this bag.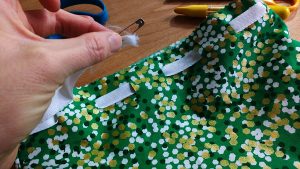 The green bag has box corners and will stand up easily once filled. The larger red bag behind it resembles a pillow case in shape and will be perfect for larger, bulkier gifts.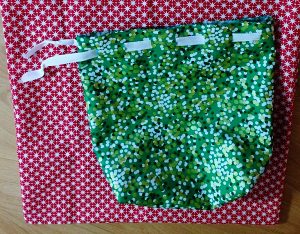 I had the most of this pine tree fabric. Because of the orientation of the trees, I couldn't fold the double the fabric over to quickly create rectangular bags (if I did that, one side of the bags would have upside down trees). Instead, I cut four even pieces and then placed the pieces on top of each other (2 bags total), right sides together. Then I pinned, pinked and sewed them together.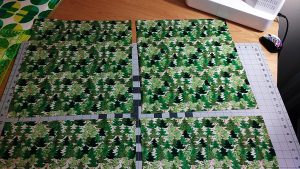 Last but not least
My final piece of fabric was a large, gingham napkin that I'd been holding onto. For this, I thought it'd be fun to create a barrel shape with a circular end. I dug out my compass to make the circle. I knew the circumference of the finished bag would be 25″ so I used the formula d = C/π. I then added .5″ on either side for seams and my diameter was just under 9″.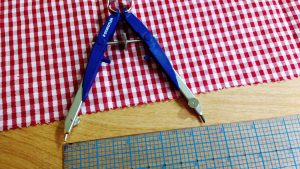 Isn't it darling? Now it was time to wrap some gifts (This was sooooo easy. So much easier than using traditional wrapping paper, scissors and tape).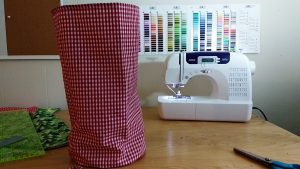 I used some trims I had on hand, a velvet green ribbon, a red fleece ribbon and some white satin binding to close everything up.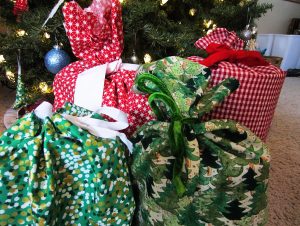 I love that I can re-use these year after year and they are reminiscent of Santa's bag of gifts too.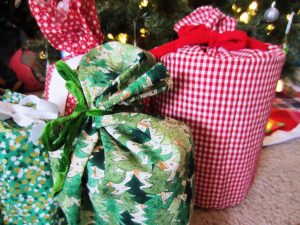 Happy Holidays!
—————————–
Charlotte Kaufman is a writer and sewist in Mammoth Lakes, California. She specializes in marine and home interiors and continues to fall more and more in love with quilting. You can follow her at charlottekaufman.com.