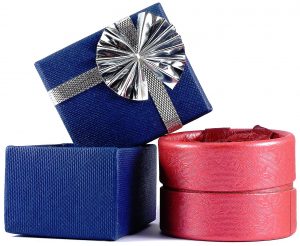 I'm lucky enough to have an October birthday, which is the inspiration for this post. But whether you or the sewer in your life has an October birthday or any of the other 11 months of the year, they'll love these birthday gifts and use them all year long.
Sewing Machine Needles
If you happen to know the particular brand of machine, or can lay your hands on universal needles, these make a great gift. Get a variety of sizes suitable for many fabric types. Sewers know that machine needles break and get dull, so a package or two of machine needles to replace the ones they've gone through will be greatly appreciated.
Dress Form
If the sewer you're buying a gift for makes a lot of clothes a dress form will be a gift straight from heaven. These aren't inexpensive so most casual sewers don't invest in them, but they make the process of sewing a dress much easier and help make sure they're sized correctly and will fit as expected. Look for one close to the sewer's size. They're adjustable, but only to a point.
Self-Healing Cutting Mat
The larger the better. These mats are amazing! If the sewer in your life uses a rotary cutter, a self-healing mat protects the table, floor or other surfaces. Quilters use these a lot and may need to put several together to make a mat the size of the finished quilt. Get a few so they can make whatever size they need.
Straight Pins
Straight pins are essential for every sewer. They hold the sides or pieces of fabric together while they sew over them with the machine. Sometimes, the pins get bent in the process. They also get dull over time. A package of these is inexpensive and will be greatly appreciated by the sewer in your life.
Supply Boxes
Your sewer likely has numerous spools of thread, bobbins, buttons and innumerable other supplies. A set of clear plastic boxes in various sizes will help her organize them while keeping her supplies visible and easily accessible.
Sewing Books
There's a huge variety of sewing books available. You can get a collection of patterns, tips on fitting, advanced fabric guides or a variety of other sewing related books. Depending on what interests your sewer has, you can find a book, or books, to suit.
Gift Certificate
What sewer doesn't love a craft or fabric store shopping spree? If you're not sure what to get the sewer in your life, gift certificates to the local craft or fabric store will be greatly appreciated. They can revel in fabrics, poke through threads and notions, and flip through patterns to their heart's content.
Sewing Class
If the sewer in your life is dreaming about learning a particular technique, sign them up for a class. They'll love the chance to learn something new and appreciate the thought you put into the gift. And who knows, maybe they'll make you something to boot!
What other gift ideas do you have?