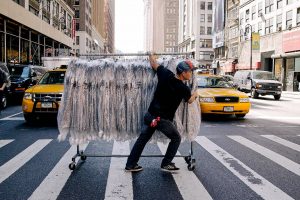 When I first moved to NYC a lifetime ago, I worked for very little money as an assistant to a crazy hat designer in the heart of the garment district. The only upside to the job was that I spent a good part of every day out on the streets gathering fabric swatches and button and trim samples. There was another assistant who had been there for almost a year already and she took me around with her and introduced me to all the people and stores. The two of us had a great time digging through bins of buttons, wandering deep into the back corner of NY Elegant Fabrics, and convincing the nice people at Mood to let us into their "secret" warehouse (it really does exist).
I only stayed at that job for about a month, though it felt like a year, and the other assistant (who has since moved back to Korea to head up a fashion company there) and I still keep in touch. I don't go to the garment district as often as I once did but I do have a list of must visit favorite places.
Mood – 225 West 37th Street
I'll get this one out of the way first since most people at this point have heard of Mood which lucked into some amazing advertising when it became the fabric store featured on Project Runway. One of the coolest things about Mood is the building its in and the old elevator, still manned by an actual man, that you have to take up to the 3rd floor. Once up there, the rows and rows of fabric reach from floor to ceiling. Things are pretty well organized, the selection is large, and most bolts have swatches already cut and attached to the ends that you can take.
One little note about swatching in most all the stores in New York City: If someone asks if you are a student, say no. They're asking because most stores have specific hours for student swatching and won't allow you to do so if its not during those hours.
Also of note: Mood has a public restroom in the back right corner. 😉
NY Elegant – 222 West 40th Street
I love NY Elegant for its selection of light weight cottons, organdies, and batistes. NY Elegant is a family run store and is the last standing fabric store on 40th St. They also get a lot novelty fabrics – fake furs and things with glitter and sparkly threads.
Paron Fabrics – 257 West 39th Street
This is one of my absolute favorite family run fabric stores in the city. Sadly, they closed their doors for good just last month. I'm only including it to remind everyone to try and support their local fabric stores and if, you have the chance, come to NYC and shop in the garment district. You really can find almost any kind of fabric there by visiting the larger stores and just wandering down 39th street and stopping in to the small stores that still remain.
B & J Fabrics – 525 7th Ave #2
B & J is your best bet for high end linens, lace, and silks. The store is extremely well organized and always seems extraordinarily well lit in comparison to other garment stores. They are a little pricier than some of the other stores but the quality of the fabrics they stock is superb.
Lou Lou Buttons – 69 West 38th St
Lou Lou Buttons sells only buttons. They have bins and drawers and barrels full of buttons. They have wood buttons, shell buttons, mother of pearl buttons, and every funky, unique kind of button you could imagine. The people who work there are helpful and friendly and don't seem to mind if you spend hours looking.
M & J Trimming – 1008 6th Ave
There are a lot of small trim stores in the garment district with beautiful things but M & J has by far the largest selection of trims in the city. And, unlike a lot of the garment district stores, they're open on Sunday (you know, for those weekend trim emergencies.)
Tinsel Trading – 828 Lexington Ave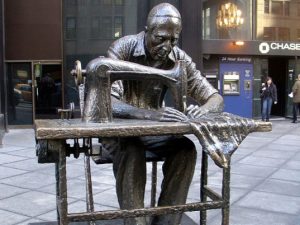 Tinsel Trading recently moved out of the garment district to this new location on Lexington. They stock the most amazing unique vintage and new trims you'll find (unless you're shopping in India or Southeast Asia). Their stuff is expensive but much of it really is one of a kind. If you like metallic thread, fabrics, and fringes, this is the place to go.
If you've never had the chance to shop for fabric in New York City, I encourage you to plan a trip if possible – you won't regret it. And, if you come during the month of December, you can also go visit the holiday windows at the retail stores along 5th Avenue – Bergdorf's (always my favorite), Saks, etc.