I love to make clothes, but quilting isn't really my thing. From afar, I admire and drool over gorgeous handmade quilts and ponder the patience involved in creating such intricate designs. In high school, my love of fabric crafts had me relegated to one of the unpopular groups – not that I fit in with any of them either. In college, I was lucky enough to have a roommate who discovered a passion for quilting her senior (my sophomore) year.
Friends and benefits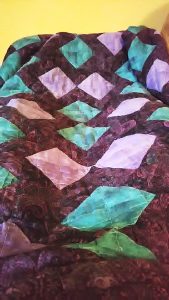 Her passion for quilting became a gift to me! One that keeps on giving, even though we've since lost touch. In college, it meant I finally had someone to geek out with me over awesome fabrics and different sewing machine options. I admit, I'm not the easiest person to live with, so the commonality of fabric crafts is what probably saved our roommate relationship.
After she graduated, she made me a quilt for my bed using my favorite colors: purple and teal. I still use it today. I've got it draped over my lap right now, in fact because in my part of the country, it's cold and rainy. The quilt she gifted me has served me well in the nearly 15 years since I graduated college. Not only is it warm and pretty, it consistently matches the décor in my home, no matter how many times I move. And it reminds me of my first fabric craft friend.
Practice makes perfect
At some point, for practice, she also made me a smaller, square quilt with a variety of black and white fabrics. It's not large enough to cover me and keep me warm, but I love it and the thought she put into. I'm not sure how'd she feel about this, but I used it to make a cat bed under one of the window sills. It's great because I can easily wash it and the cats love the softness and cushioning it provides to what would otherwise be a wooden bench.
Just like the clothes I make are made with love, so too are homemade quilts. That love combined with the utilitarian factor of quilts make them the gift that keeps on giving. Whether they're given for big life events like wedding or births or simply as a way to say "I care," homemade quilts are a gift that the receiver may carry throughout their lives.