If you run a small (or sometimes large) sewing business, you may occasionally have the desire, or encounter an offer, to barter services. Bartering is an age old method of exchanging labor and/or goods and it's one I would encourage you to not dismiss until you've fully considered what it could offer.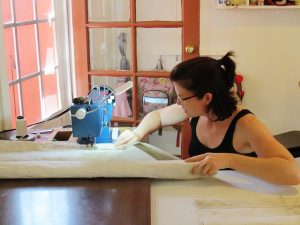 When considering barter, keep the following things in mind before you agree:
Make Sure you Get an Equal Exchange of Goods
Ensure your barter is for an equal exchange of goods or labor. If you are providing someone with $500 worth of labor on repairing upholstery, make sure you get the equivalent in return. If, for example, you would only receive $300 in custom built-in shelving, be very explicit that the remaining $200 will be paid in dollars. Be sure to delineate labor versus supplies/shipping/etc., and that both parties are in agreement on which exactly of those things is being bartered equally for.
Is it Worth it to You?
A lot of people have a hard time saying no. Remember, in addition to practicing your craft, you are running a business. If you prefer cash or the person offering the bartered goods or services doesn't have something you need or desire, politely decline and ask for actual payment instead.
Recently I was approached about doing barter for a local spa. They needed large amounts of their high-end spa robes repaired and offered to barter in exchange for spa services. I'm a sucker for a good pedicure and I usually pay for this indulgence. A barter of my labor in exchange for spa service in this case was definitely worth it. I submitted invoices of the time my labor took for each batch of robes, and the monetary amount was then put 1 to 1 into my vendor account as credit at the spa.
Write it Down
Get your agreement in writing. Even if that writing is an email thread where you go back and forth until all the details are fully worked out, it's crucial you have the agreement in writing should either party need to go back and clarify.
Also consider only doing barter for a specific time or a specific project. Just because you've used barter in the past does not mean you are forever stuck doing that. Be clear about for how long you'd want that specific agreement to last and don't hesitate to ask for monetary payment in the future.
Don't Forget Taxes
You may need to include tax on your barter invoice. Every state has its own laws in this regard, so look up where you are living to make sure you bill accordingly. I live in California. In the example above where I bartered my labor in exchange for spa services I did NOT need to charge tax but that is only because my labor was on repairs. If I had sewn new robes for them, I would have needed to charge tax on that labor. Take the time to find out how to report each transaction.
Do you barter? If so, what types of bartering situations motivate you? If you haven't tried bartering, you may want to give it a try. Let me know how it goes.
—————————–
Charlotte Kaufman is a writer and sewist in Mammoth Lakes, California. She specializes in marine and home interiors and continues to fall more and more in love with quilting. You can follow her at charlottekaufman.com.