We've been talking about sewing productivity and how to make more time to sew for the past few weeks. In case you missed them, here are links to part one and part two of this series.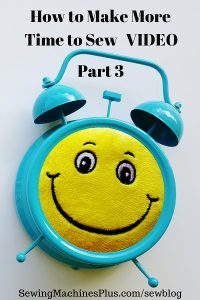 I have a few more tips and ideas to share today and I made a video to recap all these ideas for you.
Batch tasking
Batch tasking is a method you can employ in many systems to make more time.
Don't run through the same series of steps many times; instead batch steps together and work on many items at once. Cut all those quilt or pattern pieces out at once. Load several bobbins at a time, since this will save you stopping to load another soon.
You can make more time for sewing when you free time from other tasks by batching, too. If you don't already batch your errands, doing this will make more time for you.  Stop running daily errands, if you do, and run errands quickly on a designated day of the week. Or batch certain errands together more economically.
I usually batch task the bathing of children, baking, computer tasks, and lots of other things. In general, I find that making and doing things in batches helps me to make more time and do more things.
Chunking
Chunking is when you grab a chunk of time to focus on one project.
Flylady made the 15-minute time chunk a daily thing for millions by encouraging her followers to set a timer for 15 minutes and declutter.
While this is a good use of a time chunk, you can use this productivity trick to do anything you want. It's a great option for getting started on a task you have been been procrastinating about; you can do anything for only 15 minutes.
Pomodoro
For tasks that require more work and focus than 15 minutes, try using pomodoro.
A pomodoro is a 25 minute time chunk. Set your timer for 25 minutes to focus on one specific task. When the timer rings, take a 5 minute break and follow with another pomodoro. You can do three or four rounds like this, and then follow with a longer break.
I have been amazed to find out just how much work I can get done on tough projects in only 25 minutes. I like pomodoros so much that my whole day is often made up of a long string of them.
Alternating between a 25 period or two at my desk and a 25 minute chunk for housework helps me to get everything done and fights burnout from sitting too long at my desk.
Resources and Inspiration
We've touched on a lot of topics in this sewing productivity series. Here are links to more information on some of the ideas and systems we have covered here:
Bullet Journal
Ryder Carroll created the bullet journal system, which is a fabulous way to organize your notebooks if you prefer to use pen and paper for your planning and lists. His quick video here is a great overview of the specifics for this easy system.
I use the bullet journal system like Ryder and scribble quick lists. But it is worth noting that the bujo can also be a creative outlet. Many people create beautiful notebooks with this system. You might like to check out Tiny Ray of Sunshine to see gorgeous examples of creative bullet journal layouts and lists.
Trello
If you would rather use kanban boards and a digital app to keep track of your great ideas and to do lists, Trello is an excellent option. I use free Trello boards for organizing and keeping track of lots of things. It definitely helps my sewing productivity by holding all my good ideas until I can find the time to get them done.
Eisenhower app
The Eisenhower matrix is easy to work with on paper. But if you prefer to go digital, now there is a free and easy-to-use application for making these four quadrant lists.
FlyLady and Kon Mari
If you are unable to achieve sewing productivity because of a messy house or too much clutter, I know a couple of ladies who may be able to help you.
Flylady has helped millions out of CHAOS (can't have anyone over syndrome) and gently encourages better routines for keeping clean and organized. Just be aware that she will send you a LOT of emails if you sign up for her list.
While Flylady did help me, no one has helped me to create order in my home as much as Marie Kondo and her KonMari system. She wrote The Life Changing Magic of Tidying Up and its sequel, Spark Joy. I recommend these books to anyone who could use more order in their home.
Setting up this system will require significant time investment up front, but once you complete your konmari, you will save tons of time and trouble and your home will stay clean and organized with minimal maintenance. My own sewing productivity has increased at least tenfold since I invested the time to konmari my house.
Sewing productivity: make it a priority
Of course, dirty dishes and laundry are everyday things. It is easy to get caught up in all the things you have to do and never get around to sewing all the things you want to sew.
You can use these productivity tricks I have mentioned to minimize your work and make more time to sew. Or you can let the dishes and laundry pile up and make sewing your top priority. I have to admit that sometimes this is my favorite trick for better sewing productivity.
We all have lots to do and limited time. However you find the time, making is important and I encourage you to make more time to sew.