Sometimes, it's easy to get wrapped up in the latest trends and technologies. That idea can be seen by anyone who rushes out to buy the latest phone, computer, or game system. I'm not saying having the most current examples of those things is bad, but the situation can lead to the mental debate of how much your phone/computer/gaming experience is actually bettered by having the latest in technology.
Believe it or not, this logic can be applied to the world of sewing as well. If you give a bit of thought to the sewing machines your grandma might have used, you could already see carbon dating, so to speak! It was a different world for sewing, and that world continues to change! In fact, not too long ago, I saw a sewing machine for sale that seemed to have digital buttons for the stitch types. Simple change, but kind of weird to me! Were we really that inconvenienced by turning a knob for different stitches?
Convention or Innovation
I've been giving this overall notion some serious thought, and I've come up with one area where simplicity can get the sewing job done in a world where technology keeps pushing farther. So, forget the glitz and glamour of modern technological advancements for a moment, and walk with me down Simplicity Lane for a block or two! The reason? We're exploring not-so-technological options for that one area in particular: Measuring!
There are a number of options available for purchase in regard to measuring your material for your sewing projects, and far be it from me to say they're all ridiculous and not worth the investment. I haven't tried them all, and I can't judge an entire category of sewing utensils on the small number of tools I have in my collection.
But the truth is that even if those advanced tools are worth the money and are worthy of being in your sewing collection, you still might not have any of them at your disposal next time you sew. This fancy see-through ruler can definitely come in handy, but guys, you need one. There are other (maybe less impressive-looking/sounding options) that can still get your measuring done!
For this reason, I will be exploring three options for measuring your fabrics that might be technologically lacking, but are logically accurate nonetheless. Let's do this in a reverse good-better-best format as we scale it back farther and farther from the technological best, shall we?
The Steps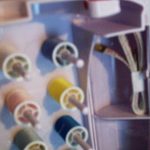 1) Reverse Equivalent of Good: Old school sewing tape is still an option! Sure, it might look outdated, and it likely won't wow most people if you bring a roll of it out of your sewing case. But the bottom line is that it works!
I'm not saying more advanced methods of measuring don't have their benefits, but when pressed, using the flimsy roll of tape that can come with a general sewing kit can serve your fabric-measuring purposes. If you have it and you're in an economic pinch, you can still make your fabric measuring work!
2) Reverse Equivalent of Better: Honestly, we can take the idea of simplifying that measurement detail even farther, way back into elementary school days to reach for a general ruler that can also be bought here.
In fact, certain rulers come with the added bonus of being potentially more useful than sewing tape for tracing your line, assuming they have a smooth edge. All you have to do is hold the ruler in place and make your mark! Just like kindergarten, but maybe with more straight pins!
3) Reverse Equivalent of Best: Anything that's geometrically okay works, too! This one though does come with a disclaimer because exact numbers could be a big deal in projects. If you're working with a pattern, following its given numbers can allow you a polished final product, so this strategy won't necessarily work out for you in that scenario. But for those of us who make patchwork things, that's not the case!
Sure, a person might have a preference toward one measurement of block to use, but the fact is that if your blocks are more or less equal, you're good to go! It doesn't matter if they're 10 x 10, 9 x 9 or 8.25 x 7.75. If they match and you make sure the longer sides all go in the same direction, your final product can still be polished. With that in mind, you don't need an actual ruler. One specific object that's used for an outline can do just as well — like a box or a frame. As long you can outline it and are more or less consistent with that shape, your blocks will match up in size.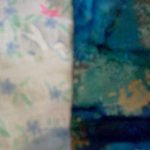 One more disclaimer though: This technique is not necessarily for the strictest of quilters and such who demand perfectly square blocks! Oh, and if you use one certain block of fabric for your general pattern, make sure you mark it so you recognize it among the rest, then don't forget and sew it into your quilt! Oops!
So, there you go — moments when technology can be scaled back for measuring purposes, and the careful measurer can still get a finished product! Do you have any cheat strategies for your sewing? Leave a comment, and let me know!