I rarely meet someone who doesn't like pom poms or fleece. They are two great unifiers and when you put them together, magic happens. They became my inspiration recently when perusing through Pinterest for ideas for our handmade holiday gifts for the girls' teachers. I began my search for ideas in September, well in advance of December, so I knew that I'd have time to get them done.
This DIY tutorial was my starting template. However it is a no-sew version of what I'm about to show you. Here is how to make a DIY pom pom fleece throw blanket.
Assemble your Materials
Order a bunch of fleece. I waited until Joann's had a 50% off coupon and I ordered 9 yards. I want to make 6 blankets and each blanket will be 1.5 yards in length. 1.5 x 6 = 9. Do the math for however many blankets you need.
This is Joann's anti-pill fleece fabric in Ivory. The roll arrives with the fabric doubled on the roll. Carefully measure out 1.5 yards for each blanket and then square up the sides as needed.
Voila, six blankets awaiting their pom poms.
I wanted to do an ombre, triple row of pom poms on each end of the blankets. I did the math here again. The fabric I ordered is 58" wide, by 1.5 yards (54"). I planned to add the pom poms on the shorter side, so I'd need 3 yards (1.5 yards per end) for each blanket. 3 yards time six blankets is 18 yards of EACH color of pom poms.
I got these from IchiMyLove on Etsy. Handily, they sold pom poms in bulk by 18 yards (IT'S LIKE IT WAS MEANT TO BE!) And their color selection was fantastic. They ship from Thailand but the shipping was only a little longer than the wait for a US shipped product. Plan ahead!
Know Your Fabric
A few tips when sewing fleece:
Use a longer stitch length.
I saw a lot of tutorials that said to use a ball point needle but I didn't have any. I used a quilting needle, size 14, and it worked out great.
Don't mess up. It's really difficult to rip out stitching on fleece. To prevent mess ups, practice on a bit of scrap to make sure you have stitch length and tension set correctly.
Fleece doesn't fray when cut. Because of this, you can decide to add reinforced stitching on the longer (non-pom pom) side or not.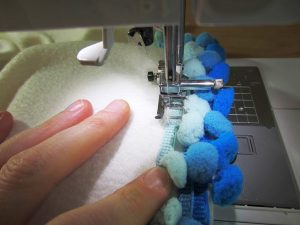 Take Your Time
Stitching on the triple rows of pom poms on each side is time consuming. Put on some music or your favorite podcast and zen out.
If you have a tag to include, plan out between which layers you want to add it.
Take it slowly, pushing each pom pom out of the way of the foot, or you'll end up like this, with your needle in the middle of a pom pom and your project on hold until you get yourself out of that mess. Don't be me like me!
Once completed, I washed the blankets on the gentle cycle in warm, not hot, and did not use fabric softener. Tumble dry on the gentle cycle as well. I added a Shout Color Catcher just to make sure the pom poms didn't bleed.
Here is the finished product. These will make gorgeous DIY gifts.
Do you give handmade gifts during the holidays? What are your plans for this year?
—————————–
Charlotte Kaufman is a writer and sewist in Mammoth Lakes, California. She specializes in marine and home interiors and continues to fall more and more in love with quilting. You can follow her at charlottekaufman.com.