Last December I found myself in the midst of a flurry of handmade gifts. I fussy cut fabric for 12 teacher presents and I laid out the plans for two quilts, one each for friends expecting babies.
When the holidays were over I took stock of both my fabric stash and my sanity and knew it was time to do something different. This time, no matter how long it took to finish, I was going to create something entirely for myself.
At the start of the New Year, in between raising my daughters, working part-time, being a friend, wife, and volunteer, I slowly brought to life a quilt that had been rumbling around in my head for ages. I've been salivating over quilts with negative space and dark background fabric.
Using my talent to treat myself is something I plan to try more often.
Out came my horded cache of cheery orange, yellow, pink, and blue fabric. I even engaged my oldest daughter, C, in the project, thus achieving both quality time spent with my kid while working on a project meant for me. C helped me pick all the fabrics for the giant star and then chose their side-by-side placement.
It took me six months of grabbing the time here and there, but finally, after a dozen or more hours, I manifested my dream into a reality. The final result is what I call the Starlight Quilt. It measures 66×89 and is backed with blue minky dot fabric. The main fabric is Floret in Turquoise by Aneela Honey for Cloud 9's Vignette line. The star itself and its rays are pieced together with a mix of fabrics I've been hording and scraps that were too beautiful to let go.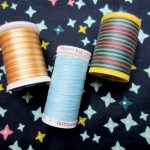 Using my talent to treat myself is something I plan to try more often. The pleasure people get from receiving a hand-made gift was something almost novel when reflected back towards me. I'm re-energized now to finish my current works in progress if only to pass that feeling onto someone I love and care about. There is also the sentiment of a job well done and a heady sense of completion.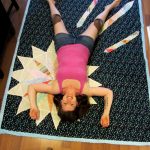 I can go back to my usually scheduled program, of devoting time and energy to sewing gifts for friends and family. But now when I sleep, I have a small treasure of my own handiwork. For a brief moment, the expensive spools of variegated thread and the swaths of luxurious minky were spent on me. How about you? When was the last time you sewed for yourself? If you can't remember when, then now is the perfect time to start.
Charlotte Kaufman is a writer and sewist in San Diego, California. She specializes in marine and home interiors and continues to fall more and more in love with quilting. You can follow her at charlottekaufman.com.