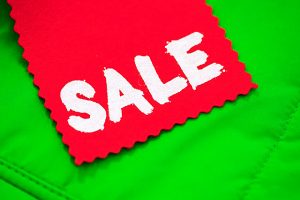 I still sew on my mom's old Singer. It's got its quirks and issues, but I feel close to her when I use it. Each stitch reminds me of childhood memories sewing with my mother. Like the time she came into my nursery school class and made bean bags with all of us. Or the first time she showed me how to use a pattern to make my own clothes. As much as I wouldn't trade these memories, having a new sewing machine is appealing.
A new sewing machine has features mine doesn't. And a new sewing machine would, in some ways, be easier to use. There have been improvements in mechanisms and needle motion since my mom's Singer was manufactured. I'm not ready to trade up from that old Singer, but you might be. If that's the case, Spring is the perfect time to buy from Sewing Machines Plus!
Spring Sale on Sewing Machines
As nature comes back to life and renews itself, you can renew your passion for sewing with up to $400 off sewing machines and furniture. Even with that great discount, sewing machines can take a big bite out of your budget. To help out with that, you can combine the $400 off with 0% APR financing! Check out all the items included in the Spring Sales Event from Sewing Machines Plus, including furniture, right here.
Other Spring Sales Benefits
Every purchase you make on Sewing Machines Plus that's over $49 comes with free shipping! In most cases, purchases ship the same day and are delivered in two to five business days. Don't miss out on your chance to save big on that new sewing machine! Whether you're looking for a long-arm quilter, an embroidery machine, a serger/overlock machine, or a simpler sewing machine, you'll find something amazing at the Spring Sales Event.
What sewing machine or furniture will you save on this spring?