Do you have four-legged family members? I've got four cats. They're my kids. My fur babies won't take well to clothes, but I often imagine how cute they'd look in certain outfits. They're also not awesome about sleeping in beds I make them, but that doesn't stop me from trying! If your four-legged family members are better about using or wearing the projects you make them, check out these cool projects.
Dog Boots
Does your dog hate going out in the snow? Make them a set of boots. Their feet won't get cold and the boots protect their pads from the salt and sand used to keep you from slipping. They're also adorable and stylish. The grippy bottoms on these boots help your dog keep their balance and the fleece lining dries out quickly.
Each boot takes less than 10 minutes to make and fit on any of their four feet. The quick and easy nature of these boots means you don't have to worry about making new ones when they inevitably wear out. If you've got a small dog, you might be able to make these dog boots with your scrap stash.
Pet Beds
Does your pet destroy blankets trying to make themselves a bed? Or maybe, like my cats, they take up more space on the bed than they give you? Show them you love them and save yourself money on new blankets or a bigger bed with these cute pet beds. They come in three sizes and styles suitable for any pet. Each one has a contrasting inner pillow for added comfort. Give your pet a comfortable place to sleep and choose easy care fabrics so you can wash it any time you need!
Dog Coat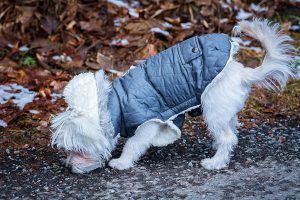 Dogs who get shaved regularly as part of their grooming regimen feel the cold more deeply than those who keep their full body of fur. Help your dog withstand cold weather by making them a dog coat (Note: this can also be adapted to make a coat for hairless cat breeds). Depending on your dog's tolerance, you can add additional lining for more insulation or use snaps or buttons instead of Velcro if your dog is skittish with noises.
Dog Pullovers
Does your dog already have a coat, but still looks cold? Maybe they need a hood! Or maybe they'll just look adorable with a hood pulled up and their nose peeking out. Either way, try this cute pullover pattern. It comes in four sizes, so you'll be sure to find one that fits your pup – big or small.
What items have you sewed for your pet? Take some pics and share!