If someone had told me when I was young that I would end up making a career out of sewing, I would have told him or her they were being ridiculous. 'Tailor' and 'Pattern Maker' never once made an appearance on my list of what I wanted to be when I grew up. Not that any truly conventional careers were on my list – I wanted to be a professional musician, a flutist, or a writer, and maybe a fashion designer. I wanted to change the world, make it better. I wanted to be remembered.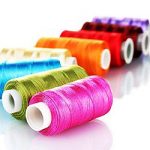 I come from a long line of talented seamstresses and tailors. My Mother, part of the Baby Boomer Generation, regularly made outfits for my brothers and me. When I visited my Nana, I slept in her sewing room next to the Singer machine in the brown wood cabinet. I don't remember learning how to sew though I'm sure my Mother must have taught me. I just always could. Among numerous other projects, I made both my prom dresses in high school. Still, I didn't consider sewing a marketable career skill.
I'm not even sure how it happened.
In college, I discovered the theatre and the costumes. I started working in the costume shop at Ohio University. Like most theatre costume shops everywhere, it was in the basement with only those small windows way up high on the walls that offered lovely views of feet passing by outside but little light. Then I got a paid summer internship helping two designers in Worcester, Massachusetts. The rest, as they say, is history, or my history at least. It's all I've done workwise for the past 27 years.
Sewing, and especially patterning, are now often, my escape from real life. They are things that can be done fast or slow but never rushed. One of things I love most about building a garment, or even doing an alteration, is that it takes just as long as it takes. People hate that answer to the question, "How long will take you to x?" But that's the neat thing about sewing: you just never know what might happen in the process.
The trick is knowing what to do when the fabric or garment or your machine throws you a curve ball.
To be happy in my life, I need both my hands and my mind to be busy. I need to make things. Flat patterning something I've never patterned before is my idea of a heavenly day at work. Looking at a picture of a dress in a magazine and working out how they made it do that, brings some of the best kind of joy. Figuring out a new technique that makes something I've done over and over easier and better calls for spontaneous furious dancing.
I think a lot can be learned with practice but I also believe that some people do just have an affinity for sewing and patterning. Some people speak the language of fabric. These are the people with callouses on their scissor fingers who know what an inch or a half inch or two inches looks like without measuring. These are the people who can look at a suit jacket and know exactly what alterations need to be done. My friend Anne and I often joke that we throw some pins in a thing just to make everyone else feel better. These are the people who find comfort in a plain old simple center back alteration and spend hours pouring over thread color charts. These are the people always looking for new ways to do and create things.
I worry that fewer and fewer young people are getting into tailoring and sewing. I think it's a shame. Sewing and tailoring and patterning are art forms, are skills that you can sustain you through life. And the pride in creating something that you, or someone you love, or someone you don't even know, can wear is simply priceless. I think it's a pretty neat way to leave behind a bit of a legacy and be remembered