My first blog here explained my passion for finding fabric and developing an idea to use it. Yes, I am truly crazy about fabric and color. I think about each piece and decide if it is something I want to work on. That being said, I find it is very overwhelming because there are so many different types of textiles, and also so many uses. With each new discovery, I find myself designing projects I can sew with respect to supplying a handmade market online. My inclination at this time is to develop a shop on Etsy.com or similar platform where I can design baby articles. I love baby prints, blankets, snuggles and soft fabric and so soft Minky to adorn the tiny hands and feet of God's most precious gift. Therefore, the fabric must be of good quality and purity.
Sewing is a process…
With all the buzz about eco-friendly products and natural products for the environment, more and more people are realizing the importance of chemical free goods for their homes and families. It certainly makes sense to me to be very particular about what is used for newborns and children. As far as my focus right now, Bamboo Terry and French Terry as well as Swaddle Gauze is popular for new or soon to be moms because of its pure qualities, minimum stretch and softness of the fabric.
Equally sought after is Organic Cotton.
I know many people have a problem with buying products that are labeled "organic", partly because they tend to be more expensive. But in the case of the world's production of cotton, it has been said that cotton crops are one of the most chemical intensive. Among the most toxic chemicals used in farming, as sited by the EPA, they affect our health and have a very negative impact on the environment.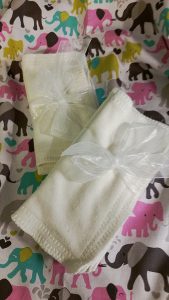 Not to drift off the subject of sewing and into eco-environmental issues, I am searching for bamboo and organic cotton to design some lightweight blankets and swaddles. Hopefully, I will be able to find good quality "organics" which are non-fading and durable so the they will last more than less expensive cuts. I have also learned that if I am taking the time to design something I want to sell, I will buy the best quality of fabric I can afford. It pays off in the long run.
Recently, I asked for an opinion about a design I made regarding fabric selections. They told me the quality of the fabric, the design of the print, and the quality of the construction are the most important parts of sewing. Sewing is a process, and learning the techniques, practicing different stitches, quilting, serging thread and other things make a finished piece a work of art.
Its time for me to order a walking foot and some ball point needles so I can practice quilting for my new baby goods. By the way, SewingMachinesPlus.com has quilting and Walking Feet especially made for Singer, Baby Lock and Janome among other brands. Check their website and find the one you need.