As many of you probably know, I work as a tailor and pattern maker for film and television in New York City. I don't always work on the same show or at the same studio. I'm also, now that I'm old(er) a bit more particular about what projects I say yes to and who I work with.
I've got a few fitting related pet peeves like, for instance, when a dress comes back from the fitting room with a note that simply reads: Drop in a Lining or the ever infamous and popular: Take in as pinned (if I didn't pin it myself). These are just minor annoyances though, compared to the phenomenon of people from other departments (accounting, grip, director, props, whatever) showing up in my sewing space – without ever having met me before – and asking if I can just fix their pants or take in this skirt.
Frustration
First of all, no. I can't just anything because (1) I'm actually working on something for the show we're both doing and (2) I don't want to. Especially if your pants fix involves a worn out crotch (and even if it doesn't). I don't randomly show up in the accounting office and ask someone to add my receipts together when they get a chance, or ask one of the props people to rewire an old lamp I bought at the last set dressing sale, or ask the director of photography to take some pictures of me for my tinder profile or something because I'm just not talented enough to take my own. (I'm kidding about the tinder profile thing). And I certainly don't throw in some disclaimer like I always wished I learned how to take a proper photo.
You've got to know when its time to let a thing go.
Sometimes the person will preface their ask with so and so (insert the name of someone else in my department) told me I should ask you. This is even more perturbing if that someone else hasn't actually sent a text or something asking me if it's ok to send that person over to me to ask a favor.
It's not me – it's you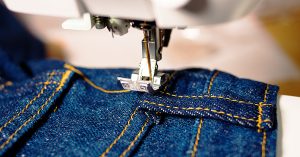 It's not that I mind doing favors. I really don't. I do favors for people I like and know all the time. I'll even do favors for people who I don't know if they ask nicely and genuinely – and especially if they offer to compensate me in some way (beer!). But if you show up with some blue cotton harem pants with a thread bare bottom that you want repaired when I'm in the middle of cutting down the neckline of a velvet top that is needed on set in about twenty minutes and the first thing out of your mouth is X told me I could have you to do this I'm never going to do it. Your sad pair of pants is going to hang on my work rack until this show wraps.
Why? Because you, whoever you are, you didn't tell me your name or what you do on this little show of ours, and I'm quite certain that the only person who can have me do anything is the Costume Designer. So, there's that. Second, if the back of your pants is worn out in the butt area, it might just be time to buy a new pair of pants. You've got to know when its time to let a thing go. Seriously, why would you think that someone you don't even know would want to be that up close and personal with that particular area of your clothing?? I don't care if they're clean and, yes, I've taken in a countless number of center backs for actors but I'm getting paid to do that. The crotch of your pants? Um, no.
A healthy dose of humility
I personally would be embarrassed to take my worn threadbare butt pants to someone I didn't know to fix. I honestly don't understand it. Maybe someone could shed some light on this for me?
I think what upsets me the most about this type of favor-asking is the assumption that I'm not busy doing something else that is important for the show. It's as if people think I'm just hanging round twiddling my thumbs just waiting for someone to turn up with their personal alteration request so I can sew something.
Anyway. Rant over. I'm going to go upstairs now and see if the accounting department can get an early start on my taxes for next year. I'm sure they're not doing anything else of importance.
What's your big sewing related rant?