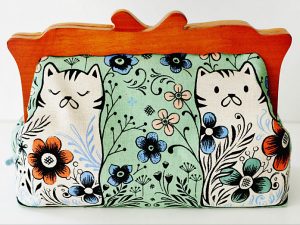 In the United States alone, we have over 85 million house cats. Additionally a 2014 survey by Quilting in America showed that there are over 16 million active quilters in our country as well. With numbers that high, you are bound to get a cross over between fabric lovers and cat lovers, and when you do, new fabric lines like these are born:
From Porto with Love, by Sarah Watts, for Cotton + Steel
Inspired by designer Sarah Watts' travels to Portugal, From Porto with Love features cats designed with old world charm.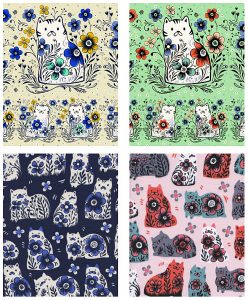 The line includes a pattern for cut-out cat plushies in two colorways.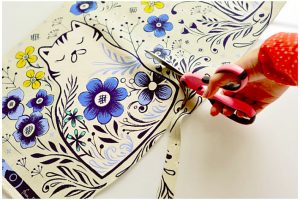 There are two cat plushies per panel and when complete they mirror each other. Just cut, stuff and sew.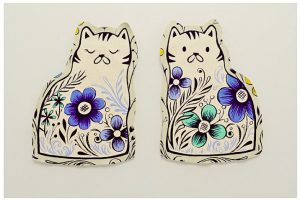 Cat plushies from Cotton + Steel's Pennie print
MEOW or Never, by Erin Michael, for Moda Fabrics
Designer Erin Michael continues her paint-by-number palette with this new line, MEOW or Never, featuring a colorful assortment of feline friends.
Michael's purrific designs stood out Quilt Market Spring 2016 and quickly inspired many projects including this cat clutch designed by Anna Graham of Noodlehead.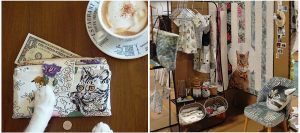 The true piece de resistance of the MEOW or Never line is this giant kitty cat quilt. Truly, cat lovers everywhere are lining up to order this quilt kit, which is sure to please both humans and felines alike.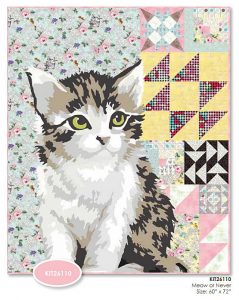 Cat Lady, by Sarah Watts, for Cotton + Steel
Sarah Watts is a co-founder and designer for Cotton + Steel. After the purrfection of her cats in From Porto with Love, she is back with the Cat Lady line of fabrics.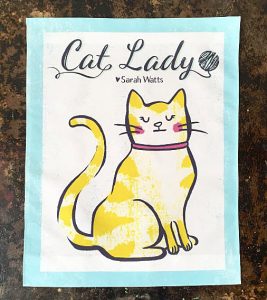 And yay, cat lovers everywhere rejoiced!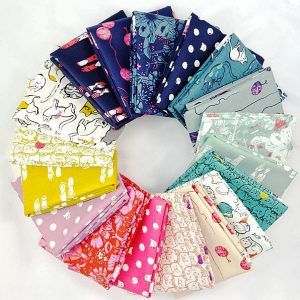 Cat Lady fabric, image via Lady Belle Fabric
Cat Lady is full of whimsy, color, and movement.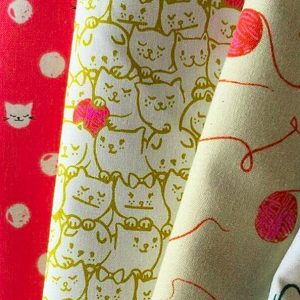 Cotton + Steel offers this free pattern for this Cat Lady quilt on their site. I love the cats playfully flow around the quilt.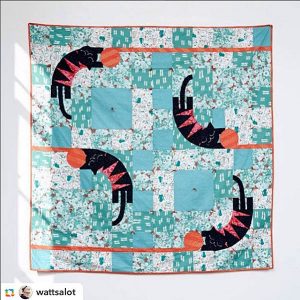 It's not just fabric houses that are getting onboard the cat craze. Spoonflower has pages of fabric designed with cats galore. This Frida Cat is one of my current faves by designer Cynetik.
There are even fabric websites dedicated solely to offering cat-themed fabric. www.felinedezine.com and www.felinedrive.com are just two examples. Have you made anything that made you or a favorite pet meow? I think the Meow or Never kitty quilt by Erin Michael's is next on my 'to make' list.
Charlotte Kaufman is a writer and sewist in Mammoth Lakes, California. She specializes in marine and home interiors and continues to fall more and more in love with quilting. You can follow her at charlottekaufman.com.