Call 800-401-8151

To Speak With An Expert Sewing Consultant
We'll help you find the perfect product and provide lifetime support for any purchase. E-mail us here.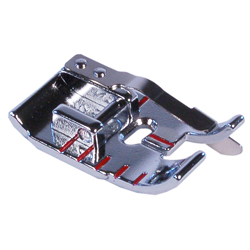 (More images coming later.)
Viking 1/4in. Edge Stitching Foot
This 1/4" foot is a teachers favorite, the guide blade makes you achieve that perfect 1/4". Buy rubbing the material against the guide you will always have a straight line.
Popular with quilters, this foot is used for piecing quilt blocks, sewing narrow 1/4-inch seams and topstitching. Also known as a "Quilting" foot.

Click on the documents below for more information on using this foot. (These .pdf files will open in a new window and require Adobe Reader to be viewed. If you do not have Adobe Reader, click here to download the program free.)
- For information on how to use this presser foot, please click here. (1.36MB)
Use this foot to try these techniques and projects!
(Click on the individual links below for information on each technique)
Works with these machine groups 7 and 750 Quilt, 555, 545:
Group 7: Designer I, II, III, Designer SE, Quilt Designer, Quilt Designer II
(7), (7A)Sapphire 830, 850, 870, Diamond, Topaz 20, 30