Call 800-401-8151

To Speak With An Expert Sewing Consultant
We'll help you find the perfect product and provide lifetime support for any purchase. E-mail us here.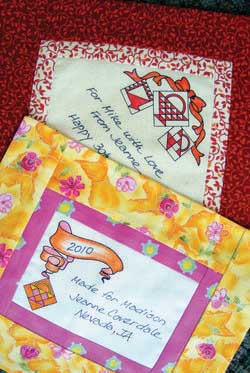 (More images coming later.)
Don't forget the label! Easily label your quilts using these preprinted panels.
These two fabric panels make it fast and easy to label your quilts
Each is pre-printed with labels for you to cut out, decorate with permanent pens, sign and sew on your quilt
Remember, the quilt isn't done until the signature is on it!
More details from our sewing advisors:
Pre-printed labels for you to personalize your projects
Includes 2 - 18" x 21" panels
Label Medley I

14 labels
Approximately 4" x 5" each
Prints include thread spools, pincushion, sewing supplies, woman sewing at her machine

Ribbons & Baskets

12 labels
Approximately 5" x 5"
Prints include ribbons and basket design quilt blocks

Black printing on off white fabric
Take a look at the Quilt Label Panel Set closeup