Call 800-401-8151

To Speak With An Expert Sewing Consultant
We'll help you find the perfect product and provide lifetime support for any purchase. E-mail us here.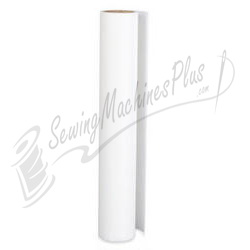 (More images coming later.)
Babylock Dissolve-Away Mesh Self-Adhesive Backing Stabilizer 12" x 10yds
Dissolve-Away stabilizer is temporary and dissolves completely in water without leaving any residue. It's perfect for projects such as lace, appliqué, emblems, or any application that needs stability but absolutely no stabilizer remaining. Dissolve-Away Mesh will prevent puckering, tunneling and distortion while stitching. After embroidering, gently remove the remain-ing stabilizer. The rest will wash away. Store unused stabilizer in a dry, airtight container.
REVIEWS

Global Rating: 5.00 from 1 reviews
Add your review of this product
Babylock Dissolve-Away Mesh...
Feb 16, 2016
Shirley Hemphill
OROVILLE CA US
I was very impressed with this product. One of the best I have used I will buy it again. I like that it is sturdy and doesn't rip easy. Easy to hoop.
Rating:
Global Rating: 5.00 stars from 1 reviews
View All Reviews