Tacsew T718-SS-2 Industrial Blindstitch Machine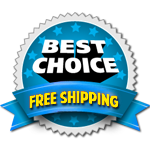 FREE SHIPPING
Shipping is 100% FREE. There are no hidden fees or surprises during checkout.
Tacsew T718-SS-2 Product Details
Perfect for sewing all weight of materials includint knits and synthetics!
The Tacsew T718-SS-2 Blindstitch machine is the perfect option for all kinds of felling operations that require skipstitch. It has a 1 to 1 non-skip stitch for felling all kinds of materials and a 2 to 1 skip stitch for hemming every manner of garment from dresses to slacks as well as draperies and much more.
Features that make it the King of Blindstitch Machines:
Speed of 2,500 SPM
Skip stitch control for longer stitches
Stitch length adjustment dial
1 to 1 non-skip stitching
2 to 1 skip stitching
Sews all weights of material
Swing-down cylinder arm
Other Specifications:
8mm clearance under foot
Uses LW-6T Needles
179mm work space
Motor Options
With so many options available for motors when we talk about replacing or buying a motor for our industrial sewing machine, there is one important point to keep always in mind "The Speed". Regardless of brand or price, motors come in two different configurations:
Fixed-Speed Clutch Motor
Adjustable-Speed Servo Motor.
Clutch motors operate at a fixed speed, typically between 1725 - 3450 rpm, depending on the type of machine. Servo Motors on the other hand are speed adjustable. The two major advantages of the Servo Motor are that you can control the speed of the motor and that the motor is completely silent when the pedal is not engaged.
Some other advantages include:
They consume up to 90% less energy than clutch motors
1/3 lighter than clutch motors
Reverse motor rotation with the flick of a switch
Nothing to wear or adjust
Adjusted speed remains the same no matter how hard the pedal is pressed
Most of our customers find that the sewing machine is much easier to control with a Servo motor because of the speed control. This is especially helpful for beginner sewers but also for projects that simply donít require high speed stitching.
This machine package includes a fixed-speed clutch motor. Upgrade to an adjustable-speed servo motor for only $79. Simply choose the servo motor upgrade option from the drop down menu during checkout.