Call 800-401-8151

To Speak With An Expert Sewing Consultant
We'll help you find the perfect product and provide lifetime support for any purchase. E-mail us here.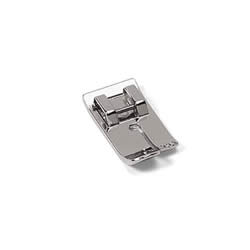 (More images coming later.)
Singer 1/4-inch foot is popular with quilters. It is used for piecing quilt blocks, sewing narrow 1/4-inch seams and topstitching. Also know as a "Quilting" foot.
Click on the documents below for more information on using this foot. (These .pdf files will open in a new window and require Adobe Reader to be viewed. If you do not have Adobe Reader, click here to download the program free.)
- For information on how to use this presser foot, please click here. (1.36MB)
Use this foot to try these techniques and projects!
(Click on the individual links below for information on each technique)
Fits Singer models 1100, 1105, 1107, 1116, 1120, 1130, 1732, 2623, 2638, 3709, 3722, 3750, 3800, 3810, 3812, 3820, 3822, 3825, 3860, 6038, 6500, 6510, 6550, 7300, 7312, 7330, 7360, 7380, 7460, 7422, 7424, 7426, 7436, 7442, 7444, 7462, 7463, 7464, 7465, 7466, 7467, 7468, 7469, 7470, 8763, 8770, 8780, 9900, 9910, 9920, 9940, CE-100, CE150, CE-200, CE250, CE350, CXL, XL-1, XL-100, XL-1000, XL-5000, XL-6000
Any machine that uses a high or low snap-on shank
REVIEWS

Global Rating: 5.00 from 1 reviews
Add your review of this product
Singer Quilting presser foot
Oct 24, 2015
Kay
Ocala FL US
Just what I wanted and at half the price of other places!! When I got my new machine, this foot was missing, and being a quilter, it was the one I was most interested in!! So I got it here for half the price. The only negetive I have about Sewing Machines Plus is their shipping is a bit slow as compared to other online stores.
Rating:
Global Rating: 5.00 stars from 1 reviews
View All Reviews