Singer 6160 Electronic Sewing Machine
The Singer 6160 electronic sewing machine boasts features to make sewing a breeze at an affordable price. An automatic needle threader makes threading the eye of the needle a snap. Stitch width and length are set at the optimum setting every time but are fully adjustable for your specific sewing needs. With essential, decorative and stretch stitches included, this machine has the right stitch for every sewing project. Easily convert the sewing machine from a traditional flat bed to a free arm for sewing sleeves, cuffs and other hard to reach areas. Easily secure your stitches with the conveniently located one-touch automatic reverse button.
Features and Benefits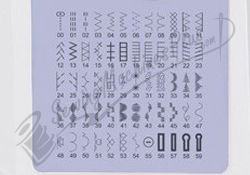 60 Built-in Stitches
The right stitch: easier sewing with better results. Includes: 8 Basic, 40 Decorative, 8 Stretch and 4 Buttonholes.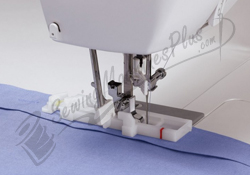 4 Fully Automatic 1-Step Buttonholes
Buttonhole sewing is a one-step simple process, providing reliable results every time. Each side of the buttonhole is sewn in the same direction creating beautifully balanced buttonholes.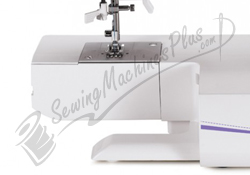 Free Arm
Provides easy access to cuffs, collars, pant hems and other smaller or difficult-to-reach areas.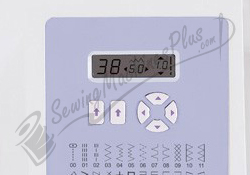 Push Button Stitch Selection
Easily select your desired stitch with the push of a button.
Other Features
Automatic Needle Threader
Threading the needle is quick and easy.
Automatic Stitch Width & Length
The right stitch setting every time. Automatic settings for width and length may be overridden to personalize stitch size.
Automatic Tension
Automatically keeps stitches balanced and even.
Up to 6.5 mm Stitch Width
Many stitches can be set for a maximum width of 6.5 mm creating attractive satin and decorative stitches.
Automatic Presser Foot Pressure
Easily sew the lightest weight tricots to the heaviest denim without the need for presser foot pressure adjustments.
13 Needle Positions
Needle position can be changed for individual projects, such as inserting zippers or cording and topstitching.
Sewing Speed
With a maximum sewing speed of 750 stitches-per-minute, projects can be sewn quickly.
3 Snap-on Presser Feet
Quick release for easy on and off!
Included Accessories
All Purpose Foot
Zipper Foot
Buttonhole Foot
Pack of Needles
Bobbins
Thread Spool Caps
Auxiliary Spool Pin
Spool Pin Felt
Darning Plate
Needle Plate Screwdriver
Seam Ripper / Lint Brush
Soft-Sided Dust Cover

No rating yet... Be the first to rate this product!
Rating:
Global Rating: stars from reviews
View All Reviews

Overall Store Rating
(
9.07
/10) 3443 reviews
Rating:
10
/10 - Date: 05/25/2016
I saw these quilt in a day templates elsewhere on the web for a much higher price. Purchased them here for a good price.
kates_catering, real customer review
Rating:
10
/10 - Date: 05/25/2016
both the feet I ordered fit my Brother Project Runway machine
taylorsong, real customer review
Rating:
10
/10 - Date: 05/25/2016
I was pleased to find a great Serger at a very reasonable price. It was delivered on time. I love it. The instructions are very helpful. I am creating some neat clothes and dressing up my home...
bettyjones1323, real customer review
Rating:
10
/10 - Date: 05/25/2016
Great transaction, good price, quick delivery, quality product
Machensmm, real customer review
Rating:
10
/10 - Date: 05/24/2016
Outstanding service , recommended to everyone.
janeenerowe9, real customer review
Rating:
10
/10 - Date: 05/24/2016
My wife wanted a good sewing chair. Researched on line and found reviews saying Koala chairs were the best. Looked for three weeks and found the best price was on the Sewing Machines Plus website....
jep1120, real customer review
Rating:
10
/10 - Date: 05/24/2016
I have ordered from Sewing Machines Plus in the past, and like those experiences this one was great. They are courteous, prompt and the pricing is very good.
ekgordon2000-14233, real customer review