Call 800-401-8151

To Speak With An Expert Sewing Consultant
We'll help you find the perfect product and provide lifetime support for any purchase. E-mail us here.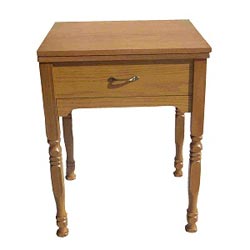 (More images coming later.)

SKU: delta-305
Delta 305 Sewing Console For Flatbed Sewing Machines
Call 800-401-8151 For Details
The Delta 305 Sewing Console offers the easiest and most affordable way to get the most out of your flatbed sewing machine.
Delta Sewing Console Features:

Sewing machine is easy to set up and quick to put away.
You get a roomy work area and just the right height for easy sewing.
The 305 is finished on all sides to fit anywhere in any room.
The 305 has an opening size of 16 1/16 length x 12 1/16 width
Constructed using select oak veneer and hardwoods
Delta 305 Dimensions and Weight:
Height 31 1/4 inches
Width 17 1/8 inches
Depth 17 1/8 inches
Weight 32 lbs.