Call 800-401-8151

To Speak With An Expert Sewing Consultant
We'll help you find the perfect product and provide lifetime support for any purchase. E-mail us here.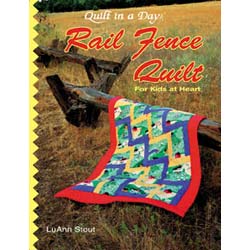 (More images coming later.)
Title: Rail Fence Quilt: For Kids at Heart
Author: LuAnn Stout (Quilt in a Day)
ISBN: 0-922705-44-5
# of pages: 48
Looking for a quilt project to share with a child or grandchild? Rail Fence, by LuAnn Stout, can be used as a beginning book for kids of all ages. Directions are given for tearing the fabric and cutting with scissors, rather than using a rotary cutter. The strips, or rails, are wide to keep the pattern simple. Yardage charts are included for a Square, Twin, or 'TV' size quilt.