Miele S5281 Libra Canister Vacuum Cleaner
The Miele Libra vacuum cleaner has quickly become a favorite to many. It's impressive as a mid-size canister vacuum cleaner. Purchase one yourself and experience the difference. The Libra is great for those who want a long lasting quality vacuum cleaner. It's very quiet and does well with low-medium carpeting, area rugs and smooth flooring.
The Libra has several features to make cleaning easy.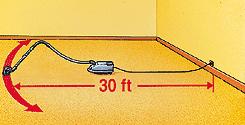 Three integrated tools handle special jobs: a dusting brush, a crevice tool and an upholstery nozzle.
The generous length of hose and power cord provide an impressive 33 foot operating radius.
The Electro Comfort powerbrush handles low-pile and medium-pile carpets with ease. It can even restore crushed carpet nap on moderate density carpets.
The Parquet Twister floor brush is designed for tile, wood and other smooth surfaces. Thorough cleaning is assured with the mixture of polyamide and natural hair bristles to get particles in cracks and ridges.
Miele Vacuum Cleaners Provide Superior Air Filtration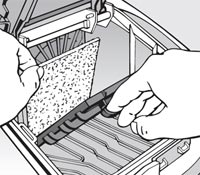 Miele vacuum cleaners are well known for superior air filtration. The AirClean™ Sealed System™ keeps indoor air clean by using the finest material available, a High Efficiency Particulate Air (HEPA) filter, and the AirClean™ filtering dustbag.
The HEPA filter traps 99.95% of all particles as small as 0.5 micron. A human hair is typically 100 microns thick, by comparison.
The Miele type G/N AirClean™ dustbag is made of 9 electrostatically charged layers to capture and hold particles. The spring loaded, self-sealing collar keeps debris inside the bag when it is changed.
Key Features of the Miele Libra Vacuum Cleaner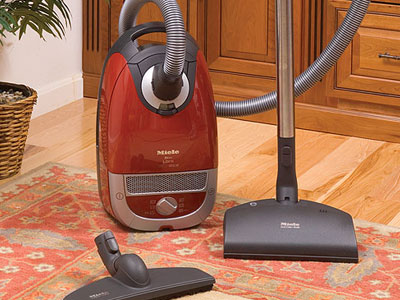 Features.
Ultra quiet featuring a HEPA Sealed system with large AirClean filtering dust bags. Includes power brush and bare floor flush for medium pile carpets and smooth flooring.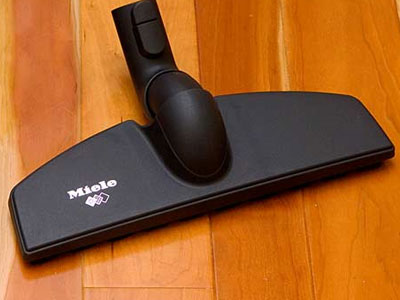 Parquet Floor Brush SBB 300-3.
The Miele parquet floor brush is able to perform perfect 90 degree rotation for cleaning around obstacles such as table legs and in tight places.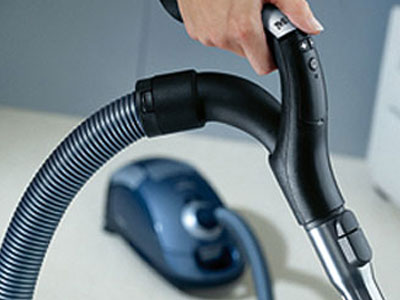 Deluxe Handle.
The vacuum handle has an ergonomic hand grip to reduce wrist strain. The handle fits well in your hand and isn't clunky or heavy like comparable vacuum cleaners.
Features
Fingertip brush roll on / off control.
6-stage suction control using the rotary dial.
Iconic indicator for suction settings.
1200 watt, high output Miele Vortex Motor System.
Silence insulation for ultra-quiet operation.
Active HEPA exhaust filter with Generally Activated Charcoal filter captures and retains tiny, lung-damaging particles and absorbs odor. It is 99.9% efficient down to 0.3 micron. The HEPA filter does not come installed in the machine, it is packaged separately to preserve the life of the activated charcoal.
Exclusive Sealed System™ construction combines the very best in raw materials with revolutionary filtering dust bags and high-quality active HEPA filters. This provides the essential formula necessary to safeguard your indoor air quality.
3-stage AirClean filtration technology. Air is channelled through the electrostatically-charged, AirClean 9-layer filtering dust bag, pre-motor filter and active HEPA exhaust filter for the ultimate in fresh and clean indoor air.
Bag change indicator light.
The large capacity, 4.76 quart type G/N AirClean 9-layer filtering dust bags have a spring-loaded, self-sealing collar.
Automatic cord rewind with step-on button.
Dual parking system for wand.
Three smooth-running 360 degree caster wheels.
33-foot operating radius.
Safety shut-off on overheating with indicator light.
Dimensions: 8.25 inches high, 10 inches wide, 19 inches long.
Color: Mango Red.
Included Accessories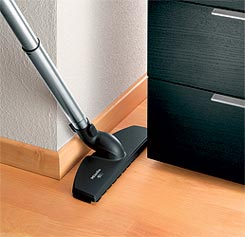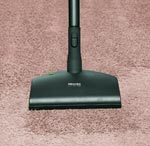 Deluxe Parquet Twister floor brush (SBB 300-3) with 90 degree rotation. Perfect for cleaning around obstacles such as table legs and in tight places. Works well on tile, wood and other smooth surfaces.
Mid-size, Electro Comfort power brush (SEB 217-3) with a 10.5 inch wide brush roll, floating head and swivel neck design. Recommended for low to medium pile carpets.
Direct connect electric hose with dual swivel ends (SES 119).
Direct connect electric stainless steel telescopic wand (SET 220).
Deluxe handle with ergonomic hand grip to reduce wrist strain.
3 integrated onboard accessory tools are stored inside the S5281 Libra.

Crevice nozzle.
Dusting brush.
Upholstery tool.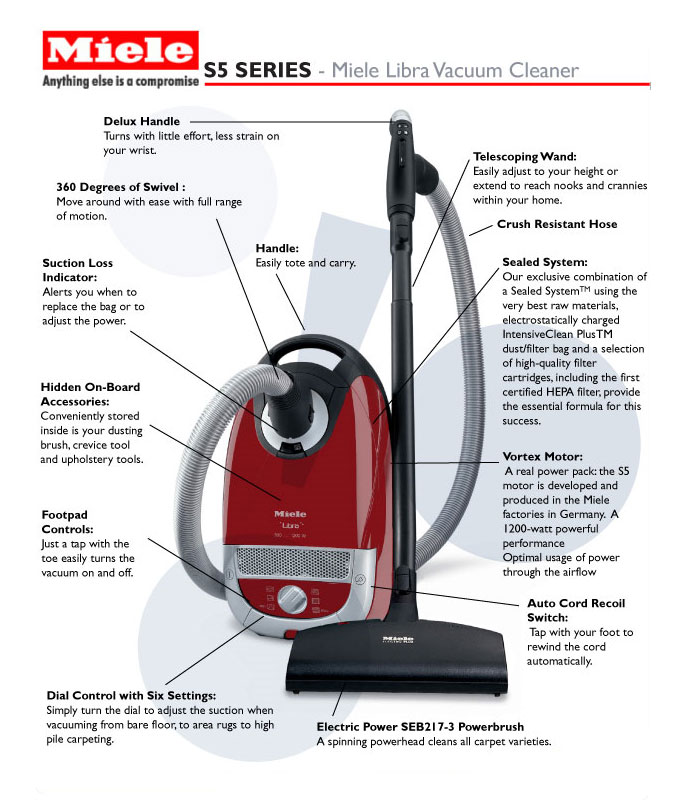 Need more supplies? Just check the boxes and click "Add to Cart" to pick up everything at once!