The Magna-Hoop gently but firmly secures the item in the hoop, eliminating the need of messy adhesive stabilizers and sprays. Embroider cuffs, collars, pocket flaps, specialty fabrics like velvet, silk, leather and vinyl without the risk of hoop burn, and more!

Each Magna-Hoop set includes 1 metal frame, 5 acrylic frames, 4 magnets, 10 gripping strips, a 12-page full-color instruction manual, and a 30-minute instructional DVD.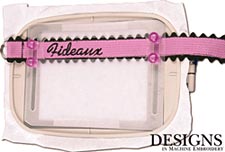 Hoop G: Singer Futura series
Large 4 1/2 inch x 6 3/4 inch hoop fits:
Quantum Futura CE-200
Futura CE-350
Futura CE-250
Futura CE-150
Futura CE-100

Click the links below to view clips from the Magna-Hoop DVD !
Q: I have been told not to get magnets near my computer or computer disks. Isn't my embroidery machine a computer? Won't magnets damage it?
A: Extensive research has shown that the position of the magnets on the frame while embroidering does not cause any damage to computerized embroidery machines. This has been thoroughly tested with no adverse effects. The metal frame absorbs the electromagnetic pull which, while strong enough for hooping, is not strong enough to go through this field. Most home embroidery machines do not have magnetic fields in the actual embroidery module itself.
Magnets can damage magnetic computer data, therefore, use caution. Do not put them in direct contact with diskettes, and memory sticks. Some design cards are susceptible as well. To be on the safe side, watch where you put your magnets! Neither the manufacturer of the Magna-Hoop nor SewingMachinesPlus is responsible for damaged diskettes, memory sticks, design cards or other media that is damaged due to user error.
Use this product to try these techniques on your project!
(These .pdf files will open in a new window and require Adobe Reader to be viewed. If you do not have Adobe Reader, click here to download the program free.)

No rating yet... Be the first to rate this product!
Rating:
Global Rating: stars from reviews
View All Reviews

Overall Store Rating
(
9.03
/10) 3441 reviews
Rating:
10
/10 - Date: 05/25/2016
Great transaction, good price, quick delivery, quality product
Machensmm, real customer review
Rating:
10
/10 - Date: 05/24/2016
Outstanding service , recommended to everyone.
janeenerowe9, real customer review
Rating:
10
/10 - Date: 05/24/2016
My wife wanted a good sewing chair. Researched on line and found reviews saying Koala chairs were the best. Looked for three weeks and found the best price was on the Sewing Machines Plus website....
jep1120, real customer review
Rating:
10
/10 - Date: 05/24/2016
I have ordered from Sewing Machines Plus in the past, and like those experiences this one was great. They are courteous, prompt and the pricing is very good.
ekgordon2000-14233, real customer review
Rating:
10
/10 - Date: 05/24/2016
Easy to identify and ship quickly the darning /embroidery loop I needed for my husband's shirt. Many thanks!
cindeearnest, real customer review
Rating:
10
/10 - Date: 05/24/2016
Sewing Machines Plus offers unbeatable prices and services. Highly recommend! Very satisfied! Thank you!
llcave, real customer review
Rating:
10
/10 - Date: 05/24/2016
I ordered a free download of a sewing machine instruction booklet. I didn't understand why they wanted email, address, phone number, etc for a free download. After completing the transaction, I tri...
mtshafer1, real customer review