Juki MO-735 5/4/3/2 Thread Overlock Serger
With the 24 stitch options available on the Juki MO-735, you can achieve virtually every serger technique and decorative stitch you've imagined!
Create the latest sophisticated styles, trendy sportswear, stretchy active wear, adorable childrens wear, decorative home fashions and more! With the MO-735 you can expand your sewing capabilities to include advanced applications such as, a chainstitch, 5-thread safety stitch, and 2 or 3 needle coverstitch.
The Juki MO-735 can handle all types of fabrics from ultra light weight to heavy weight, and the most difficult-to-feed materials.
Top Features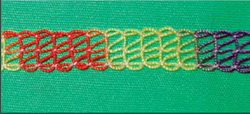 2 & 3 Needle Bottom Coverstitch
Coverstitch: Easily converts to coverstitch for hemming and serging in one operation. Ideal for hemming all types of knit garments including tee shirts and sweatshirts,sewing elastic and decorative seaming.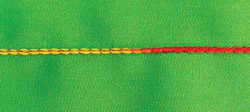 Chainstitch Mode
2-Thread Chainstitch: For creating durable seaming, binding and decorative sewing on woven fabric. The unit easily converts to chainstitch and features an automatic chain looper threader.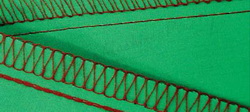 5-Thread Safety Stitch
3-Thread Overlock with Chainstitch: Wide or narrow 3-thread overlock combined with 2-thread chainstitch for creating super secure professional seams.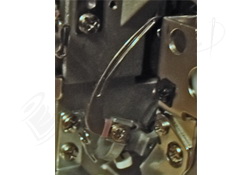 Chain Looper Threading - in a Snap
Threading that is fast, easy and done in a snap. Just push the button and the chain looper snaps down for complete access and easy threading.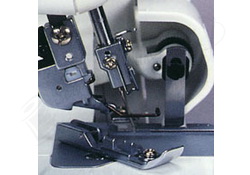 Multi-Function Presser Foot
The multipurpose presser foot, standard on the MO-735, allows you to create overlock stitches and add tape, elastic, ribbon, or sequins to your creations.
Snap-on presser feet mean that you can easily change from the multi-purpose foot to one of the Juki Specialty feet and expand the creative potential of the MO-735.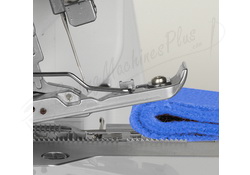 Front Extra-High Foot Lift
The Extra-High front foot lift option allows for thick fabric, or layers of fabric to be handle with ease.
The adjustable foot pressure dial allows for foot presser to be increased or decreased to handle any fabric.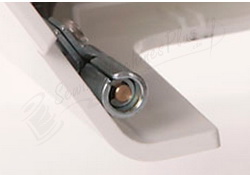 Safety First!
Micro safety switches on the front and side covers provide extra safety when sewing. If the covers are open, the machine will not sew.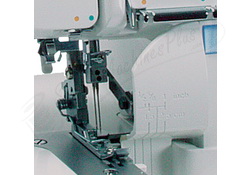 Serging Precision
The built-in seam guide takes the guesswork out of seam allowances. Just use the conveniently located gauge on the guard cover and serge away, creating accurate seam allowances as you go.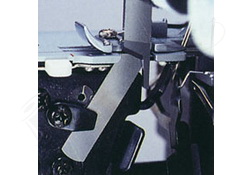 Heavy Duty Upper & Lower Knife System
The knife system on the MO-735 operates with a dedicated drive to assure consistent and smooth cutting for both light and heavy weight fabrics - so all fabric edges can be trimmed safely and professionally.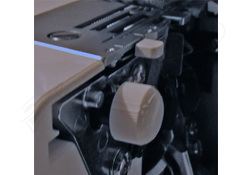 Easy Cutting Width Adjustment
The lower knife cutting width easily and quickly adjusts with the turn of the dial allowing you to create perfect seams and rolled edges.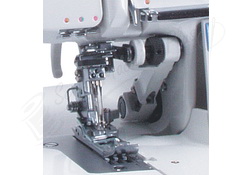 Up and Out of the Way
The upper knife arm can be effortlessly released with a press of a button to provide more sewing room. This is useful when working in coverstitch mode, or when do not need to trim the fabric edge.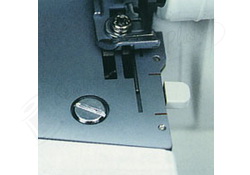 Flip and Roll
Automatic rolled hemming can be created quickly and easily with a flip of a switch. No need to change the needle plate or foot - Just Flip and Roll!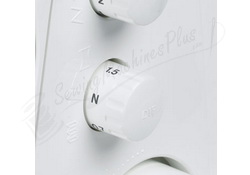 Differential Feed Adjustment
Keep things moving along evenly, or create fashion techniques, like lettuce edges, with the easy to use Differential Feed dial.
Easy Stitch Length Adjustments
Change the stitch length for specialty thread or overlock techniques using the conveniently located dial.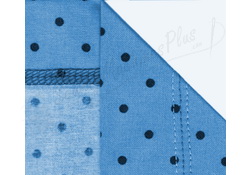 Create Perfect Coverhems and More!
The Juki MO-735 offers 24 stitch patterns including three coverhem types: 2-Needle Wide, 2-Needle Narrow and 3-Needle
Convenience Features:
Cut/Sew/Finish in One Operation
Lay-in Type Thread Tension Slots
Color-Coded Threading
Automatic Looper Threading
Slit-Type Molded Looper Threading Paths
Adjustable Stitch Length (external)
Adjustable Differential Feed (external)
Adjustable Lower Knife
Retractable Upper Knife
Automatic Rolled Hemming
2/3 Thread Conversion Cap
Wide Overedge Width (5 - 9mm)
Higher Presser Foot Lift
Sewing Light
Micro Safety Switch
Stitches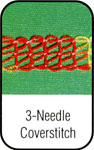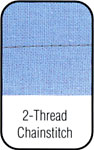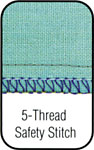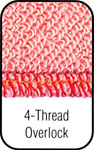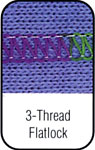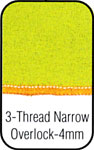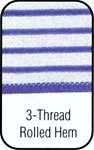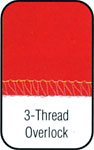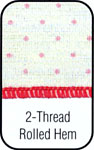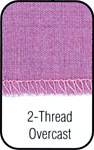 4-thread coverstitch, wide (5.0 mm)
3-thread coverstitch, wide (5.0 mm)/narrow (2.5mm)
2-thread chainstitch seam, top and bottom
5-thread safety seam, wide
4-thread overlock seam
3-thread overlock seam, wide/narrow
3-thread super-stretch
3-thread flatlock seam
3-thread Blank Stitch, wide/narrow
3-thread rolled seam
3-thread rolled hem
2-thread overlock seaM, wide/narrow
2-thread flatlock seam, wide/narrow
2-thread rolled hem
Specifications
Sewing Speed - Max. 1500rpm
Stitch Length - Max.4mm
Standard - 2.5mm
Overlocking Width - Left Needle: 7mm / Right Needle: 5mm
Chainstitch - 10mm
Rolled Hem - 2mm
Coverhem - 2.5-5mm
Differential Feed - 0.7 : 2.0 Ratio
Presser Foot Lift - 5mm
Needles - Household #11~#14
Dimensions - 300 (W) x 260 (D) x 290 (H) mm
Weight - 9kg
Included Accessories
Compensating Presser Foot for Coverstitch
Large screwdriver
Spare lower knife
Spool caps
Oiler
Thread nets
Vinyl cover
Needle pack
Tweezers
Brush & needle inserter
Needle threader
Guide bar
2/3 thread selector Auxiliary Bed for Chain and Coverstitch
Waste bin
Accessory pouch
Instruction manual
Foot control & power cord
Downloads
Click Here to Download The Juki MO-735 Brochure (PDF)
Click Here to Download The Juki MO-735 Instruction Manual (PDF)
Click Here to Download The Juki MO-735 Threading and Stitch Training (PDF)