Juki TL-2000Qi Sewing & Quilting Machine With Inspira iQuilt Frame Package Includes: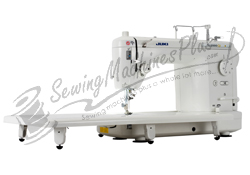 Juki TL-2000Qi Sewing and Quilting Machine
The NEW Juki TL-2000Qi is a high-quality sewing and quilting machine. The TL-2000Qi is a portable, lightweight machine, constructed of aluminum die-casting to ensure industrial-quality sewing. With 9 inches of space between the needle and the arm of the machine, the TL-2000Qi can handle large quilts and home decor project with ease.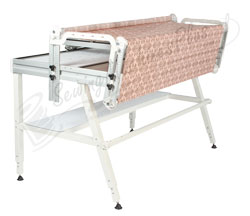 BONUS ITEM!
Inspira 10' iQuilt Metal Quilting Frame
The enhanced 10' iQuilt Frame is the next step forward in machine quilting. (Frame extends to 12' with optional 2' extension)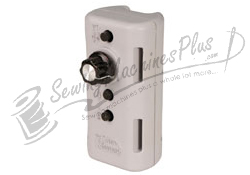 BONUS ITEM!
Grace Speed Control
The Grace Speed Control puts the power of your foot pedal at your fingertips.
Juki TL-2000Qi Description
Juki has made some incredible improvements to their all new Juki TL2000QI updated quilting and home decor machine. It offers a powerful 1500 Stitches Per Minutes, low vibration due to the aluminum die cast frame and has automatic thread cutting.
This single needle, lock stitch machine is useful for straight stitching and quilting and also for tailoring, dressmaking and home decor items. In addition, the machine includes LED lights and one pedal control for speed and the trimming system. This semi industrial machine has Juki's famous stitch quality along with true drop feed used by many of the best quilters. This workhorse machine comes with a 1/5 inch quilting foot, an even feed foot and an extended bed table. Up to 12mm foot left, easily hems denim jeans.
Key Features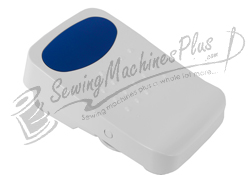 Foot Controller with Thread Trimming Function.

It is possible to automatically trim both needle and bobbin threads by pressing the heel side of foot controller. The foot controller is big enough and it is easy to control sewing start and stop.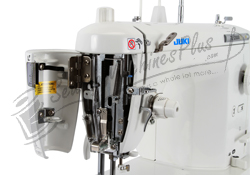 LED Light.

This brightens the needle area for better material handling. Cuts down on eyestrain as well.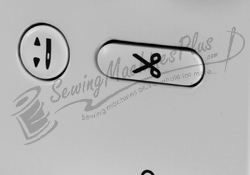 Automatic Thread Trimmer.

The machine is equipped with an automatic thread trimmer device that simultaneously trims the needle and bobbin threads at the sewing end. All it takes is a gentle push on the push-button. It uses the thread trimming mechanism.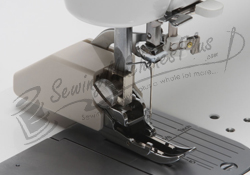 Even Feed Foot.

The even feed foot makes a reliable feed. It ensures beautiful seams when sewing difficult-to-feed fabrics such as georgette and velvets. Also works well on heavy weight materials such as leather.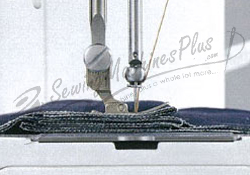 Sew Heavy Weight Materials With Ease.

The speed control mechanism is operated by microcomputer for precise control. It allows the machine to sew materials at low speeds. This provides for accurate feed and perfect stitching when sewing heavy weight fabric, quilting and multiple layers of materials.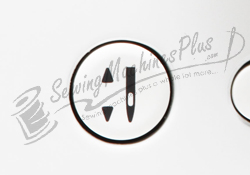 Predetermined Needle Stop Position.

When you stop sewing, the machine comes to an accurate stop with the needle down. To move the needle up or down as desired, simply press the needle up/down button.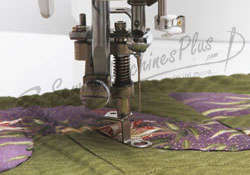 Quilting Foot.

The quilting foot is designed for free motion quilting and free-hand embroidery.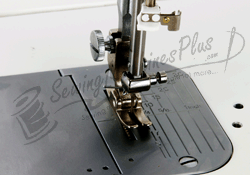 Feed Dogs.

The feed dog can be raised and lowered simply by pressing a switch. When quilting, the drop feed allows you to sew curved stitches with ease.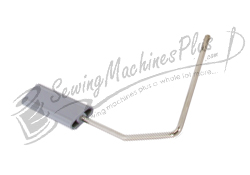 Knee Lifter Lever.

The knee lifter lever lifts / lowers the presser foot without using your hands. The presser foot can be raised as high as 12mm.
Additional Features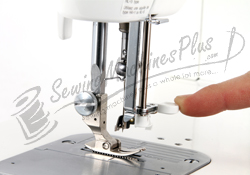 Automatic Needle Threader.

The push lever automatic needle threader threads the needle with ease without eyestrain. You can start sewing quickly.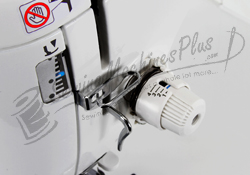 Thread Tension Scale.

The machine is provided with the thread tension scale. Adjust the tension to match the thread and material used.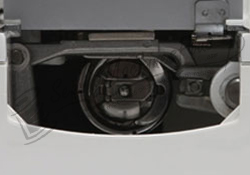 Easy Bobbin Replacement.

A new bobbin case latch and an enlarged bobbin case area make it easier to remove and replace the bobbin.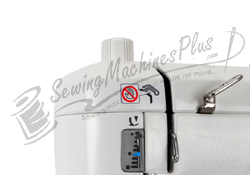 Adjustment of Presser Foot Pressure.

Presser foot pressure can be adjusted according to the fabric being sewn by turning a regulator located on the top of the machine.
Features
Large work area. Wider handling area than conventional sewing machines.
Longer arm and sewing bed for easy handling of quilts.
High sewing speeds up to 1,500 spm.
Automatic bobbin winder.
Light weight and portable.
Supplied with HA-type needles.
Arm and bed of Juki TL2000Qi is constructed of die cast aluminum.
Basic sewing functions operated by foot pedal.
Specifications
Sewing Speed.

Maximum 1,500 s.p.m.

Stitch Length.

Maximum 6mm.

Lift of the Presser Foot.

By Lever, Maximum 9mm.
By Knee Lifter, Maximum 12mm.

Needle.

HAx1 (130/705H) #7-#18.
HLx5 #9-#16.

Dimensions.

17.8 x 8.6 x 13.8 inches.

Weight (Machine only).

11.5 kg.

Rated Voltage / Power Consumption.

120V / 1.4A, 100W.

Power Consumption of the Lamp.

12V, 3W.

Auxiliary Table (Dimensions).

590 x 277 (mm).

Hook.

Horizontal-axis Full-rotary Hook.
Included Accessories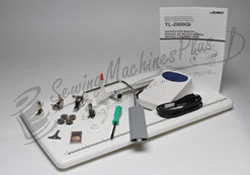 Bobbins.
Spool cap.
Needle pack.
Even Feed Foot.
1/5" Quilting Foot
Compensating Presser Foot.
Standard Presser Foot.
Foot control w/ thread trimmer.
Knee lever.
Small screwdriver.
T-screwdriver.
Lint brush.
Oiler.
Extension table (see product image).
Power cord.
Instruction manual.
---
INCLUDED! Inspira iQuilt 10 Foot Metal Quilting Frame (extends to 12 feet with the optional 2 foot extension kit)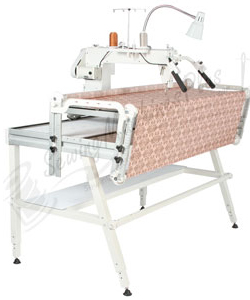 The ALL NEW enhanced iQuilt Frame is the next step forward in machine quilting. This frame combines all of the great concepts from the previous Imperial model with exciting new features that greatly enhance the Quilter's experience, including stability in the frame as well as performance in the sewing machine.
Product Description
Performance Enhancements
One of the performance enhancements is the steel rails that now not only provide additional strength, but allow the frame to extend from 10 feet, with an optional 2 foot extension, out to 12 feet. With that, a steel coupler has been included. The steel coupler adds the additional rigidity, not only adding performance to the rails, but simplifying the assembly.
Precision Movement
We have new track supports on the frame, taking and adding the new SureTrack design both to the front tracking and the rear tracking helps to stabilize the motion of the carriage. We have also been able to incorporate that same SureTrack design to both sides of the upper carriage as well. This provides exact precision in the movement and the stitch quality of the machine and system.
Improved Look and Value
There have also been some additional simplifications with assembling the table and the frame as a whole. Additionally, with some new clean pieces such as the white table, the look and value of the product have greatly improved.
Compatibility
The iQuilt Frame is perfect for any sewing machine with up to an 18 inch throat space.
Additionally, the iQuilt Frame is compatible with the following Systems.
QBOT
Grace QuiltMotion
Tin Lizzie Shirley Stitcher
Viking QuiltSewClever
Key Features
SureTrack Dual Wheel Carriage
SureTrack Frame Extrusions
1 1/2 inch Steel Rails
Steel Rail Couplers
New White Plastic Tables
Height Adjustable Tables
Height Adjustable Legs
Can be set up in four different configurations to fit your sewing space and needs.
5 foot length
7 foot length (with optional 2 foot extension kit)
10 foot length
12 foot length(with optional 2 foot extension kit)
SureTrack Dual Wheel Carriage Design
The dual SureTrack design improves stitch accuracy and eliminates flex while maintaining a smooth Carriage Motion
New Professional 1 1/2 inch Steel Rails
The new 1 1/2 inch diameter steel rail increases the overall rail strength. A two foot extension can be added to the frame extending it out to 12 feet. The rails include the Fabri-Fast system for quick and easy fabric installation.
Steel Rail Couplers
The all new steel couplers bring enhanced rigidity and simplified assembly to the frame.
New Dual SureTrack Frame Extrusions
The new extrusions allow for perfect carriage alignment, adding stability and improving stitch quality.
Optional 2 foot Extension Kit
Extend the frame from 10 feet to 12 feet with the optional 2 foot extension kit.
---
Grace Speed Control Specifications
Control your sewing machine with the touch of a button. The Grace Speed Control replaces your foot control.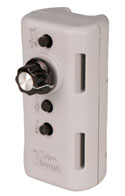 Features
Speed dial that allows you to set your machine to desired stitch speed.
On / Off button.
Pulse button (machine runs until you release it, or touch and release for a single stitch).
Thread cutter button. Activates your machine's thread cutter.
Velcro straps for easy attachment to your frame.
Compact ergonomic design.
The Speed Control Box comes with a 3.5mm Male Mono Plug connector and a 5.5mm Female Power Plug.
Juki TL-2000Qi Downloads
Juki TL-200Qi Instruction Manual (PDF)

Need more supplies? Just check the boxes and click "Add to Cart" to pick up everything at once!