Juki HZL-G110 Computerized Sewing and Quilting Machine
with
FREE BONUS

Package!

FREE BONUS Includes:
Instructional DVD, Hard Carrying Case, 100 Needles, 20 Bobbins
and 5 Year Extended Warranty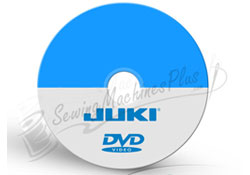 FREE
Instructional DVD
This Free Bonus Instructional DVD will help get you started sewing right away on your NEW Juki HZL-G110 Computerized Sewing Machine!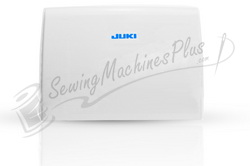 FREE
Hard shell Carry Case
Protect you machine with this Hard Shell Carrying Case included FREE with your NEW Juki HZL-G110 Computerized Sewing Machine!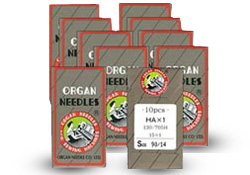 FREE
100 Needles
No need to worry about running short on needles. We have included 100 FREE Needles to keep you sewing, because once you start sewing, you won't want to stop!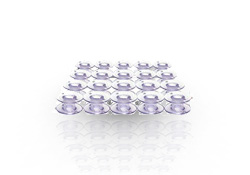 FREE
20 Bobbins
These 20 FREE Bobbins will allow you to keep bobbins full of all your favorite colors, so whern it's time to change threads, you will be ready!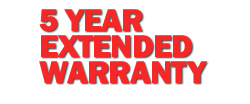 FREE
5 Year Warranty
Buy with confidence! In addition to Juki's Manufacturer Warranty you will recieve a SewingMachinesPlus.com 5 Year Extended Warranty.
HZL-G110 Product Details
The HZL-G110 is a fill sized computerized sewing machine. With 180 stitch patterns and lots of fun features, the G-110 is sure to inspire both beginner and experienced sewers.
Key Features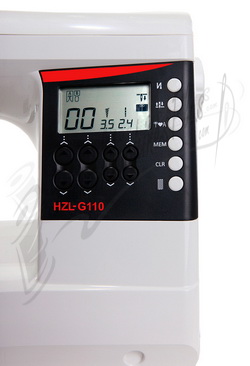 Easy Pattern Selection
Selecting the right pattern is easy on the G-110.Select the Menu, use the arrow keys to select the pattern number and your off and sewing in nothing flat! The LED screen displays the stitch settings, pattern and even recommends the best presser foot to use.
Need to adjust the stitch length and width? Just use the arrow buttons below the stitch settings display. Need to program in trims, needle position, combine patterns and more - no problem. It's all right at your fingertips.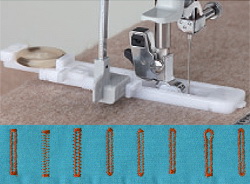 Sensor Buttonholes
Buttonholes made simple! The Juki G-110 has 8 perfectly balanced and high quality buttonhole patterns to choose from.
Just select the desired pattern, snap on the buttonhole foot and lower the buttonhole foot sensor and your ready to create perfect buttonholes for any fabric.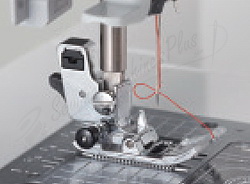 Automatic Needle Threading
The automatic needle threader, threads the needle with just the push of a lever.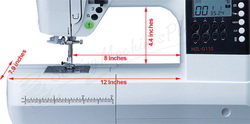 Perfect for Large Projects
The G-110 has plenty of room to handle even the largest projects. The large underarm area makes this machine a perfect quilting companion and perfect for home decor projects.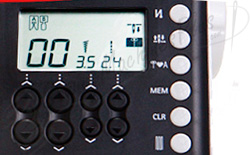 Fingertip Control
You have complete control with just a push of the button. Program the needle Up/Down stop position. Program a pattern or pattern sequence to stitch once or multiple times. Adjust patterns for difficult fabrics to create perfect stitches every time.

Decorate Away
With 180 stitch patterns, including one alphabet and 8 buttonholes, you can decorate and embellish just about anything or add unique touches to crazy quilts and so much more!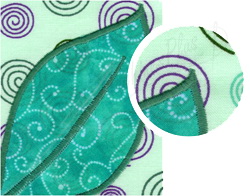 Perfect Needle and Stitch Placement
The G-110 has 37 variable needle positions which allow you to place the needle any where you desire. It also has a feature that allows you to taper zigzag stitching to the center for perfect applique, decorative sewing and more!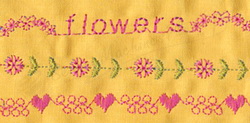 Combine and Sew Away
Combine decorative stitches or lettering into pattern sequences and save them to the machine memory. The G-110 allows you to combine up to 70 patterns. Stitch them once, or stitch them over and over with the touch of a button.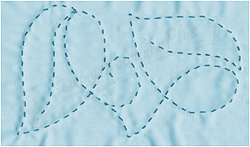 Sashiko - Hand Look Quilting
The Juki Tension system handles invisible thread with ease so sashiko - hand look quilt stitches are formed perfectly every time. No tangles, no thread breaks, just beautifully formed stitches every time.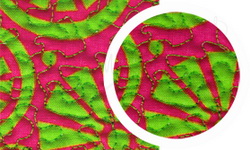 Drop the Feed Dogs and Go!
With just a flip of the switch, you can be creating free-motion quilting stitches or free-hand embroidery with ease.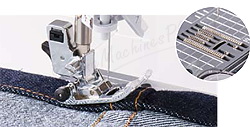 Stitching Powerhouse
Thanks to a 7-point surgical steel feed dog system , the G-110 can handle the heaviest fabrics with ease and the sheerest fabrics without puckering. The industrial style box-feed system means that heavy or light fabrics feed evenly and smoothly.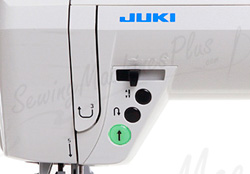 Variable Speed Control
Sew it up fast or slow it down for more detail. The G-110 can sew as fast as 900 spm or as slow as 90 spm.
Up or Down
With the push of a button the needle can be moved up or down into your fabric.
Lock Stitching
Hold the reverse button and sew backwards. Touch it and lock the end of your sewing.
Start/Stop Sewing
Sew without your foot control - just unplug and go.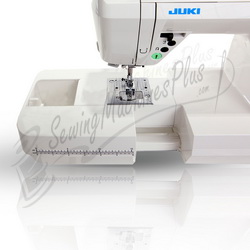 Free Arm Sewing
Remove the accessory tray to reveal a Free Arm. Use the Free Arm to sew sleeves and pant legs.
Convenience Features
Automatic Needle Threader
Start/Stop Button
7-Pt Feed Dog
12mm Extra High Foot Lift
Free Arm
Temporary Memory of up to 70 patterns
Stitches
180 built in stitches
22 Practical Patterns
8 Buttonhole Patterns
10 Decorative Quilt Patterns
40 Decorative Patterns
1 Alphabet including

upper & lower case
numbers, punctuation and European characters
Specifications
Sewing Speed
Stitch Length
Stitch Width
Presser Foot Lift
Needle
Dimensions (mm)
Weight (machine)
Accessories
Snap-on Presser Feet

Standard
Overcasting
Sensor Buttonhole
Manual Buttonhole

4 Bobbins
Small, Large Spool Caps
Special Screw Driver
Seam Ripper/Brush
Twin Needles

BONUS

Hard Case

BONUS

Instructional DVD

BONUS

20 Bobbins

BONUS

100 Needles

BONUS

5 Year Extended Warranty
Product Video