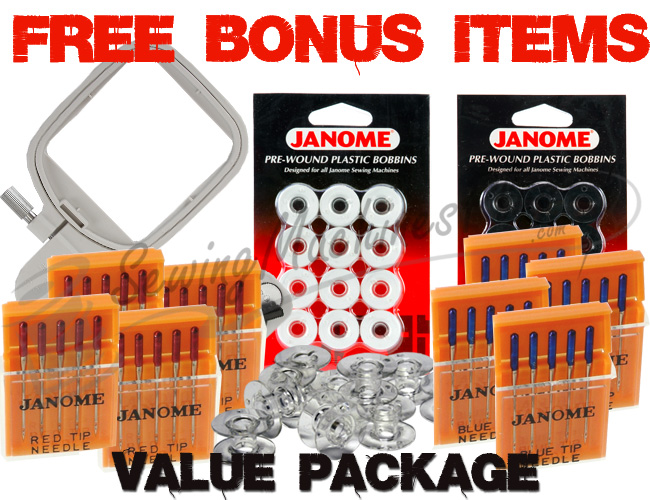 Enjoy these FREE BONUS items found in our Value Package. These accessories will give you what you need to start right away and keep you working!
FREE BONUS Value Package Includes
FREE Janome Free arm Hoop C
FREE Janome Bobbins 10 Pack (2 Packs)
FREE Janome Pre-Wound Bobbins (12 Pack - White Thread)
FREE Janome Pre-Wound Bobbins (12 Pack - Black Thread)
FREE Janome Size 11 Needles (4 packs)
FREE Janome Size 14 Needles (4 Packs)
Accessories may be substituted if we run out of stock. Packaging might vary.
---
Janome Memory Craft 350E Embroidery Machine (Same as Bernina Bernette 340 Deco)
Embellished objects reflect your personal sense of style. The 350E makes it easy to embellish home decor items, garments, or accessories - just snap in your hoop and press a key. The 350E is our most advanced embroidery-only machine. Make ready to wear garments uniquely yours, monogram pillowcases and towels for a thoughtful gift: the 350E does it all, you just change the thread!
It's Easy To LetYour Imagination Fly
Snap in your hoop and press a key. The Memory Craft 350E makes Professional-Style Embroidery so easy, you don't even need to know how to sew. Within minutes you can be adding beautifully precise embroidery to garments, accessories, home dec items, and more. The Memory Craft 350E lets you add high quality Janome embroidery to your sewing room without having to buy a whole new sewing and embroidery machine. And, you get all the creative possibilities of Janome embroidery software.
Get More Done In The Same Sewing Time
With a separate machine for your embroidery, you can do two things at once. The stitch mechanism on the MC350E is so precise and reliable, you won't need to hover over the embroidering process. Instead, turn your attention to a task on your regular sewing machine or serger. New features like an automatic thread cutter and a USB port save even more time.
High Quality Embroidery Makes It Uniquely Yours
Not all embroidery machines are created equal. The built-in embroidery mechanism of the MC350E, a Janome Exclusive, is extremely precise. Anything you stitch out will stand up to a closer look. And that's important when it's a direct reflection of your creativity.
More Connection Options
The MC350E has a USB port, allowing you to import designs via USB memory key. It also has an ATA PC ard slot, which can take flash memory cards and Janome PC Design cards.
Excellent Features Allow Your Creativity to Soar
Backlit LCD Touch Screen Takes You Step-By-Step
On-screen controls are simple and powerful. Editing is as easy as touch and drag. Add fonts to your layout. Save designs to the built-in folders or to external storage devices. It's easy enough for a beginner but also has the sophisticated options an advanced user looks for.
Extra Choices For Built-in Flexibility
You can choose from four hoop sizes, three built-in alphabets, and one hundred built-in embroidery designs. An improved file system makes it possible to create multiple folders using ATA PC cards and USB memory keys.
Enjoy The Speed Of A USB Port and A New Processor
The USB port gives you additional design options. Import designs and layouts you've downloaded off the Internet or a CD-ROM using a standard memory key device. And, because the MC350E is compatible with powerful Janome embroidery software, such as Customizer and Digitizer, when you finish creating a custom design on your computer, just download it to a memory key and bring it directly in to your MC350E. The processor speed of the 350E is equal to the speed of top-of-the-line models. Your design selection and editing will be faster than ever.
Automatic Thread Cutter
It's the one feature embroiderers say, once they've used, they can't live without. Fast and easy, the automatic thread cutter does just what its name implies: as soon as a thread color is done stitching, both the top and bottom threads are snipped clean and close.
Features
Backlit LCD screen
Auto thread cutter
USB memory key compatible
ATA PC card port
Compatible with Janome software
Embroidery speed up to 650spm
Built-in designs: 100
Fonts: 3
Monogramming: 2 & 3 letter
Expanded built-in memory
Change colors to favorite thread: Janome, Robison-Anton, Madeira, Mettler
Drag & Drop editing for easy placement
Embroidery design resize 90% - 110% by 1%
Rotate in 1 and 45 degree increments
Flip vertically and horizontally
Standard hoops
Large 5.5" x 7.9" (140mm x 200mm)
Standard 5" x 4.3" (126mm x 110mm)
Embroidery area tracing
MY SET screen controls for contrast, in/cm, designation, and other customization
Zoom in and out
Multi-language selection
Stitch-out time indicator
Stitch counter
Upper thread and presser foot sensors
Manual thread tension control
Ball bearing precision
Specifications
Maximum Embroidery Size: 140x200mm
Available Hoops: Standard 140x200mm, Standard 126x110mm, Optional 200x230mm, Optional 50x50 mm
Embroidery Speeds: 650, 500, 400 spm
Built-in Designs: 100
Built-in Fonts: 3
Other Designs: 2 & 3 letter
Interface: ATA card; USB Host
Multi Combination on Edit Screen (Out Sources): PC Design card, ATA Card, USB Memory Key
Built-in Folder System, Ability to Create Folders Containing 100 Designs, up to Memory Capacity
LCD Backlight 4.7", Grayscale, Touch Panel 97x73 mm
45 Degree Rotation (Both Directions)
Auto Thread Trimmer
Dial Tension Control
90%-110% Design Re-sizing
Lighting: Wedge base 1pc.
Eco Mode
11 Languages
Ball Bearing
Soft Cover
Includes A Hoop (126x110) and B Hoop (140x200)
Carriage Position: Forward/Center Position
Included Accessories
Bobbins
Felt
Instruction Book
Instructional CD-Rom
Lint Brush
Scissors
Screwdriver
Set of needles
Spool Holder (large)
Spool Holder (large)
Spool Pin
Template Sheets (for Built-in Designs)
Vinyl Machine Cover
Memory Craft 350E Downloads
Memory Craft 350E Product Brochure (pdf)
Memory Craft 350E Instruction Book(pdf)