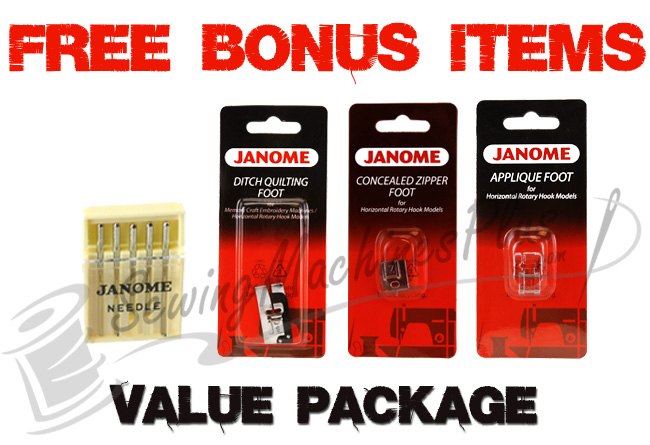 Enjoy these FREE BONUS items found in our Value Package. These accessories will give you everything you need to take your Sewing and Quilting to the next level!
FREE BONUS Value Package Includes
FREE Janome Concealed Zipper Foot
FREE Janome Ditch Quilting Foot
FREE Janome Applique Foot
FREE Janome Universal Needles - Size 12 (Pack of 5)
Accessories may be substituted if we run out of stock. Packaging might vary.
---
Janome DC4030 Pink Ribbon Computerized Sewing Machine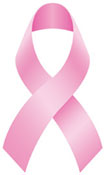 The DC4030PR is a limited edition machine to commemorate a great cause: The National Breast Cancer Foundation, Inc. Designed to do both delicate decorative work and functional heavy-duty sewing, this easy to use machine can handle any task. Choosing and configuring stitches is easy with the large stitch selection buttons. It has 30 actual stitches, 6 one-step buttonholes, a built-in One-Hand Needle Threader and Stitch Width and Length adjustments. The DC430 is a computerized machine that gives you Janome quality results at a great price.
It has 30 actual stitches, 6 one-step buttonholes, a built-in One-Hand Needle Threader and Stitch Width and Length adjustments. Also, there is a Stitch Elongation feature-- that means you can elongate some stitches without losing any density.
The DC4030 control panel, with its intuitive design and two stitch options per button, lets you adjust your sewing quickly and clearly. All of the stitch selection buttons light up when selected, and buttons are large and especially easy to navigate.
Key Features
Needle Up/Down Button
Finish your seams with the needle up or down. Allows for easy pivoting.
Lock Stitch Button
The Lock Stitch Button lets you finish your stitching with an invisible lock stitch. When used with decorative stitches, the machine will complete the stitch pat¬tern before adding the lock stitch.
Reverse Button
Lets you sew in reverse. If you are in the middle of a decorative stitch it will immediately insert a lock stitch before reversing.
Start/Stop Button
This convenient button lets you sew without using the foot control. When you press and hold the button, your stitching will slow down for more accurate results. This button is perfect for both the beginning and the ending of a stitch, where you need a little extra control.
Adjustable Foot Pressure
Select from four foot pressure levels to perfectly accommodate fabrics of different thicknesses.
One-Hand Needle Threader
Thread the needle easily without eye strain using the convenient One-Hand Needle Threader. Its advanced design keeps the lever in place for easy one-handed threading.
One-Step™ Sensor Buttonhole
The DC4030 provides six styles of automatic sensor buttonholes. Drop your button into the sliding gauge and the foot makes a perfectly-sized buttonhole every time.
Swing Open Face Plate
Removing lint is a cinch with this convenient swing out face plate door.
Auto-Tension System
Let the automatic thread tension system help you achieve perfect stitch consistency, even over fabrics of different thicknesses.
Stitch Elongation
Lengthen stitches up to 5x their normal stitch length without losing density: add visual flair to all of your sewing projects. By combining various patterns you can create beautiful, original designs.
Additional Features
Super-Sturdy Design
Computerized Precision
30 Actual Stitches
6 One-Step Buttonholes
Direct Stitch Selection Buttons
Programmable Needle Up/Down
One-Hand Needle Threader
Slow/Fast Needle Settings
Slow Run/Start/Stop Button
3 Pressure Adjustment Levels
Stitch Elongation Feature
Specifications
Computerized sewing machine Horizontal full rotary hook
Free arm / Flat bed convertible
Machine size W413 x H280 x D180
Machine weight 8.3 kg
Maximum speed -Foot control: 820 spm- Start-stop: 700 spm
Direct Stitch Selection w/LED light
Thread tension control Automatic (roller)
Speed control slider
Start/stop button
Needle up/down
Foot pressure adjustment Dial (3 levels)
Number of feed dog 7 point
Electronic foot controller
Protective Soft cover
Number of 30 built-in stitches including 6 buttonholes
Elongation
1-step buttonhole
Stretch stitch adjustment Maximum zigzag width 7 mm
Maximum stitch length 5 mm
Standard Accessories
Bobbin
Needle set
Overcast foot: M
Satin stitch foot: F
Zipper foot: E
Automatic buttonhole foot: R
Overedge foot: C
Blind hem foot: G
Screwdriver
Quilter
Seam ripper/Buttonhole opener
Lint brush
Large spool holder
Small spool holder
Hard Case
DC4030 Pink Ribbon Downloads
DC4030 Pink Ribbon Product Brochure (pdf)
DC4030 Pink Ribbon Instruction Book(pdf)

Need more supplies? Just check the boxes and click "Add to Cart" to pick up everything at once!